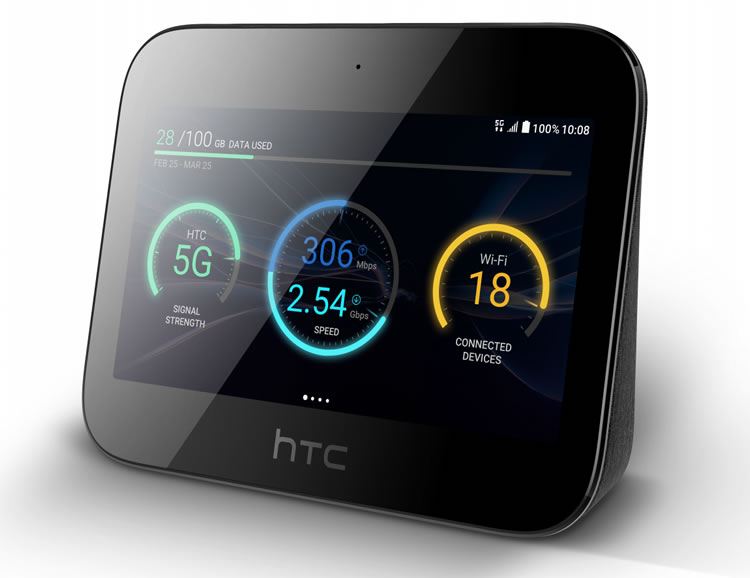 We already know that EE is planning to stock the Samsung Galaxy S10 5G, as well as a 5G phone from OnePlus, but it's not just 5G phones that are coming to the network, as it has also now confirmed that it's planning to stock the HTC 5G Mobile Smart Hub this year.
HTC's 5G Mobile Smart Hub is a mobile broadband device that offers 5G connectivity. That means you can connect other devices to it, such as phones, laptops and tablets, and they can enjoy 5G speeds, even if they themselves don't support 5G (though you'll need to be in an area with 5G coverage).
It can get up to 20 devices online at once, however HTC's device is more than just a simple 5G hotspot, as it also has a 5-inch 720 x 1280 screen and runs Android, so you can run apps and view content - such as TV shows and films - directly on the 5G Mobile Smart Hub.
Note: theoretical product speeds only shown in photo.
A big battery and lots of features
The hub also has a massive 7,660mAh battery, which should help keep it alive for a while even with lots of devices connected to it. But you can even plug a phone into the Smart Hub and use the hub to charge the phone if your handset is running low on life.
Other specs of the HTC 5G Mobile Smart Hub include a top-tier Snapdragon 855 chipset, 4GB of RAM, 32GB of storage, a microSD card slot, and support for Wi-Fi, so you can use it on Wi-Fi networks as well as with mobile data.
It sounds like the most feature-packed and futuristic mobile broadband device ever made, but there are still some things that we don't know about it, most notably when it will land and how much it will cost.
For the former, we know that HTC plans to launch it in some countries during Q2 of 2019, but it's not clear whether that's when EE will get it or not. For the latter, we'll have to wait and see, but it's likely to be pricier than a typical MiFi device.
Graham Wheeler, VP Product and Business Operations, HTC Europe, said "From 4K video streaming, to low-latency gaming or staying connected on the go, the HTC 5G Hub is designed to take advantage of the game-changing speeds and connectivity of 5G. We're thrilled to be working with EE to deliver the benefits of 5G to the UK with our first of its kind hardware."