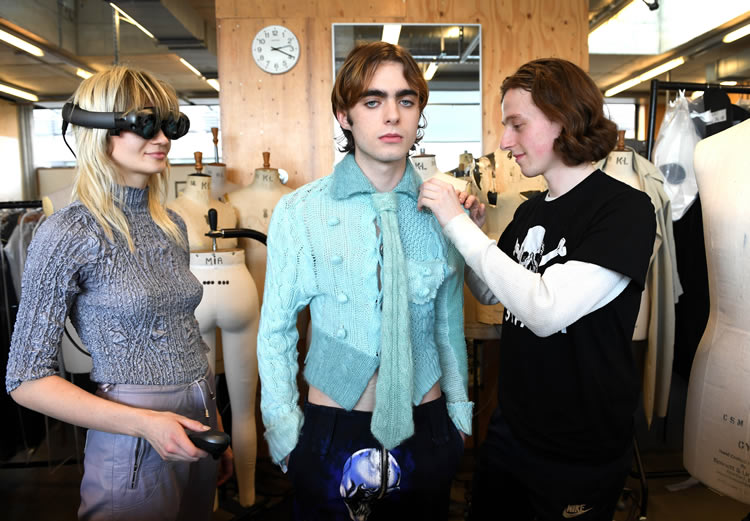 Three has just made a big, surprising announcement, revealing that it's set to use its 5G network to power the world's first 5G mixed reality catwalk show, during London Fashion Week.
The Central Saint Martins MA Fashion show, which takes place at 9pm tonight (February 15th), will use Three's 5G network alongside Rewind's Magic Leap mixed reality technology to bring the designs of Gerrit Jacob to life.
The collection, which is described as "an eclectic and colourful interpretation drawn from the 80s gaming arcades and fairgrounds scene" will be shown off by world-renowned model, Lennon Gallagher, in what's set to be one of the more unusual and unexpected ways that 5G technology could transform the world.
Shadi Halliwell, chief marketing officer at Three, said: "Today we are turning up the volume on 5G and bringing it to life for the first time in the UK, right here in the heart of the fashion world. By giving students access to the next generation of mobile technology, they will be able to push the boundaries of learning, innovation and sustainability to create in a way that's never been possible.

"This is the first glimpse of the future and as we progress our roll-out throughout the next year we will see how it will affect and change everyday life for all our customers."
In it for the long haul
But this isn't just a one-off use of 5G technology, as Three has actually permanently installed its 5G network here, making it the UK's first permanent consumer-facing 5G installation.
Alongside the network, Three has helped create a bespoke design-focused 5G laboratory at the college, allowing students to explore fashion, art, design and performance using the likes of the Internet of Things (IoT), augmented reality, virtual reality and cloud computing, all powered by 5G.
As for this initial fashion show, if you're not going to be there – don't worry, as Three will be posting photos on Instagram on the night.
And if you do want to see the tech first hand then from March you'll be able to head to Three's flagship Oxford Circus store – currently the only 5G-enabled UK store - for a taster version of the world's first mixed reality catwalk.
Of course, all of this is just the beginning, as Three has previously announced plans to properly launch its 5G network at some point in 2019, so soon far more people will be able to get a taste of the technology's potential.