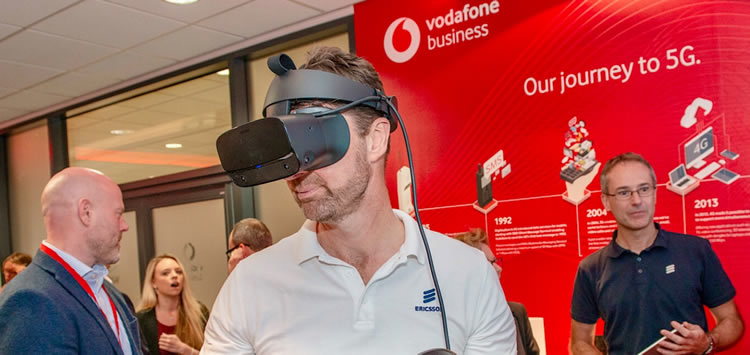 Local businesses in the West Midlands now have the opportunity to experience the latest 5G technology and see how it could benefit their own companies. The Vodafone Business Lounge allows businesses to both collaborate and innovate to learn more about 5G and high-speed fibre.
Launch day
After launching yesterday, guests were given the opportunity to try some demons including 'Day in the life of 5G'. This demonstrated the impact 5G will have on various industries including sport and retail.
A 5G VR experience was also on offer which simulates the feeling of a rugby tackle. This could be especially interesting for the gaming industry, they could make virtual experiences much more real with the help of 5G.
Richard Brown, a Digital Champion at Coventry City Council, said, "We want this region to be a technology hub; and we hope such investment will have a significant impact on the local economy and attract businesses and jobs to the area."

Whilst Anne Sheehan, Director at Vodafone Business, said, "The Vodafone Business Lounge will enable West Midlands businesses to experience the game-changing potential of 5G and foster innovation and partnerships. With 5G, we can help turn their vision into reality."
The importance of 5G in the business world
The Vodafone Business Lounge aims to highlight just how game-changing 5G can be not just for consumers but for businesses too. The new super-fast network can open up a world of opportunities. From transforming the fan experience in sport to encouraging fully automated warehouses that run completely wirelessly.
For example, companies are already experimenting with 'remote' operations that run entirely on 5G. This could be transformative in the medical world. Doctors may not need to be physically present whilst operations take place. Instead, they can watch it live and offer advice to the surgeons operating.
5G appears to be paving the way for new and exciting developments in almost every industry. Therefore, it's very important that businesses know about and understand how 5G can work for them.
Vodafone is committed to building more technology centres across the UK and has recently opened the Digital Innovation Hub at MediaCityUK in Salford. It'll be very interesting to see how 5G shapes the world of business in the future.