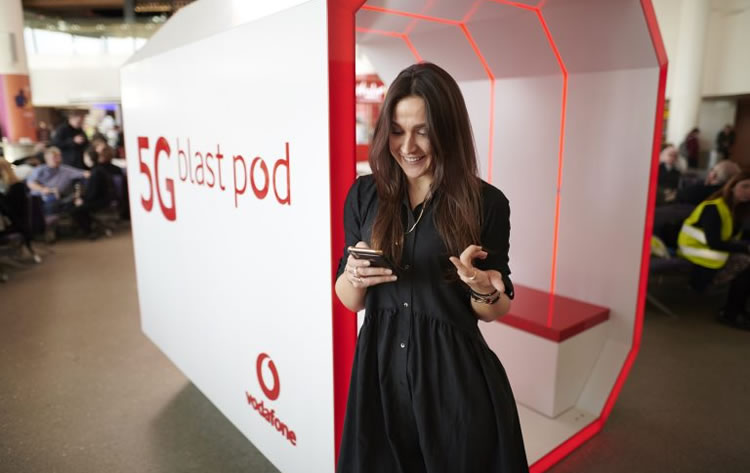 If you're planning to jet off from Manchester Airport anytime soon you might also get a chance to try out 5G data, as Vodafone has just switched on its super-speedy network in the airport, making it the UK's first 5G-connected airport.
5G masts are in place, but you'll have to visit Vodafone's 5G 'blast pod' at Terminal One to take advantage, as coverage isn't airport-wide yet. You can take a look at the blast pod in the video below,
The experience won't be quite the same as conventional 5G, as there aren't any 5G phones quite yet, which means Vodafone has had to use a 'Gigacube' 5G router, which consumers then connect to, essentially like a Wi-Fi network but connecting to 5G infrastructure.
Four times faster
Once you do connect, you'll be able to enjoy speeds that are up to around 4 times faster than 4G, and to make the most of that Vodafone has been giving away free Now TV Entertainment passes, so people can download shows to watch on their flights.
The network says that an episode of Tin Star will download in just 45 seconds over 5G. The whole season of 9 episodes meanwhile took a mere 6 minutes and 7 seconds, while on 4G it took 26 minutes and 8 seconds.
The speeds shown on 5G are similar to home Wi-Fi, and it's not just speeds that impress, as Vodafone notes that thanks to low latency it's also possible to seamlessly stream a movie on 5G without any lag or buffering.
Nick Jeffery, CEO, Vodafone UK said: "We all love to catch up on our favourite TV shows, play games or finish off some work when travelling. 5G, with its fast speeds and quick response times, will make that quick and easy, even in busy locations. We are proud to be the first provider to bring 5G to an airport and will be adding more major travel hotspots to our 5G network throughout the year."
As Nick Jeffery notes, this won't be the only airport to get Vodafone 5G, as it plans to trial the tech in more major airports – as well as train stations – throughout the year, so you might get a chance to try it out even if you're nowhere near Manchester. One of the next upcoming trial locations is confirmed to be Snow Hill railway station in Birmingham.
And these aren't Vodafone's first 5G trials either. The network also recently launched the UK's first full 5G trial in Salford for example, and has begun testing 5G in smartphone-sized devices.