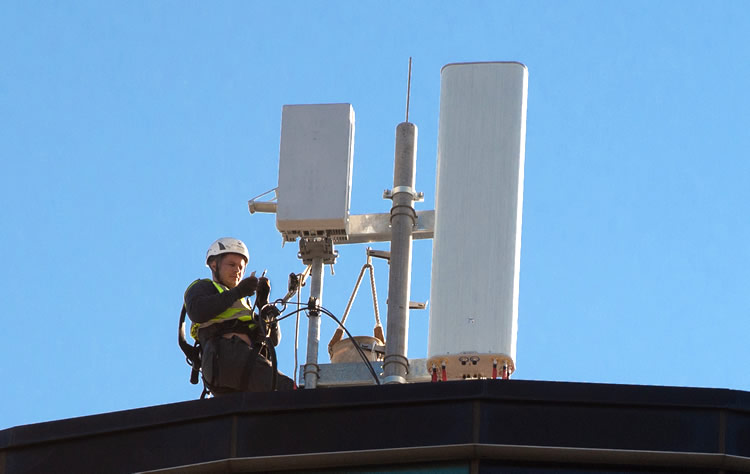 Vodafone has just hit a major milestone, as the network has switched on a 5G site in Salford, Greater Manchester, which it claims is the first in the UK to carry full 5G over a commercial network.
The distinction comes in the word 'full', as other trials have either incorporated parts of a 4G network or been used in a single location, making them more of a lab test. Though note that this still won't be final hardware and certainly can't be seen as a test of 5G on consumer devices, given that 5G phones aren't even available yet.
Rather, the trial, which covers MediaCityUK and the surrounding area, uses 3.4GHz spectrum and Massive MIMO (multiple-input multiple-output) technology, and is connected to Vodafone's nationwide converged fibre network, lets the company test 5G technology end-to-end using wireless routers.
Vodafone is also set to open the trial up to other companies through its 'Future Ready' innovation centre, which is opening in spring 2019 and will allow for the use and testing of 5G wireless routers, gigabit-capable optical-fibre links, and various Internet of Things (IoT) services.
The first of many
This Salford trial is just the beginning though, as Vodafone also plans to launch full 5G trial networks in six other cities soon, namely Birmingham, Bristol, Cardiff, Glasgow, Liverpool and London, followed in 2019 by the Scottish Highlands, Cornwall, the Lake District and other locations.
This development follows other milestones from Vodafone, such as recently completing the UK's first live holographic call over 5G.
However, it's not just Vodafone that's achieving 5G milestones, as other networks are also pushing ahead with trials of the technology. For example, EE recently launched the UK's first live 5G trial in Canary Wharf and achieved speeds of 1.3Gbps on the trial network. The difference between this and Vodafone's 5G first is presumably that EE's wasn't 'full' 5G by Vodafone's definition.
Vodafone UK has recently said that it plans to launch 5G in mid 2019.
Further reading: