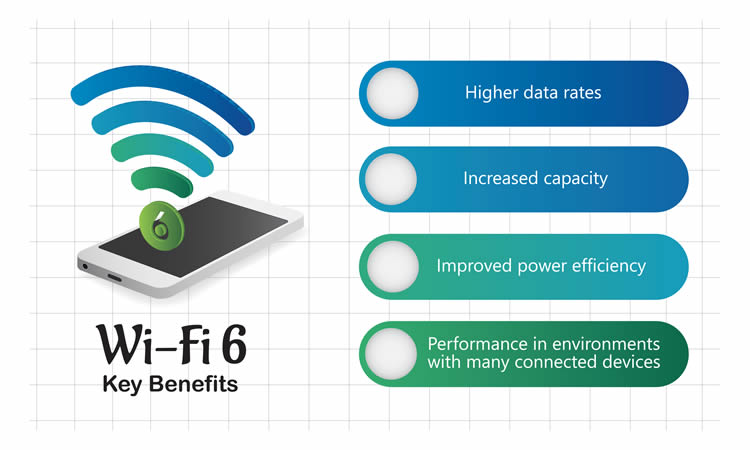 Wi-Fi 6 is the next-generation Wi-Fi standard and it will soon appear in more access points, laptops and smartphones, thanks to the Wi-Fi Alliance's new certification program launched this week. Driven by demand for faster, whole-home Wi-Fi systems, more than half of customer premises equipment (CPE) units shipped are expected to support the new standard by 2024, according to ABI Research.
Wi-Fi 6 (a.k.a, 801.11ax) is faster, more efficient and provides better coverage than previous generations. It supports orthogonal frequency division multiple access (OFDMA) technology and multi-user, multiple input multiple output (MU-MIMO), which enables it to handle more devices at one time in crowded environments. Its peak data rate is up to 10Gbps.
According to ABI Research, CPE suppliers are using the new technology to support mesh systems that provide whole-home Wi-Fi coverage. With these capabilities, the research firm expects Wi-Fi 6 networking devices to gain traction in the retail and service provider sectors in the next two years.
The first smartphone and access point to receive the Wi-Fi Alliances Wi-Fi 6 certification are the Samsung Galaxy Note 10 and Ruckus R750. Other companies whose products have been certified include Broadcom, Cypress, Intel, Marvell and Qualcomm.
Complementing 5G
Wi-Fi 6 has many technological advances in common with 5G, but the two wireless technologies are expected to complement each other rather than compete head-on. Generally, Wi-Fi will likely remain dominant in providing high-capacity coverage in indoor residential and business environments, while 5G will cover outdoor, wide areas.
In fixed wireless access (FWA) applications, 5G could provide connectivity to homes and businesses to support the indoor Wi-Fi coverage. Similarly, in the case of public Wi-Fi hotspots, high-speed 5G links could connect the outdoor access points (which has been referred to as 5G powered Wi-Fi).
For future use cases, service provider groups and standards bodies are working on improving Wi-Fi and cellular convergence with tighter integration between Wi-Fi 6 and 5G. These efforts are deemed necessary to meet requirements for use cases in the areas of enterprise Wi-Fi, factory automation and connected cities, for example.
Wi-Fi Alliance's new certification program can be found here
ABI's Research document can be found here