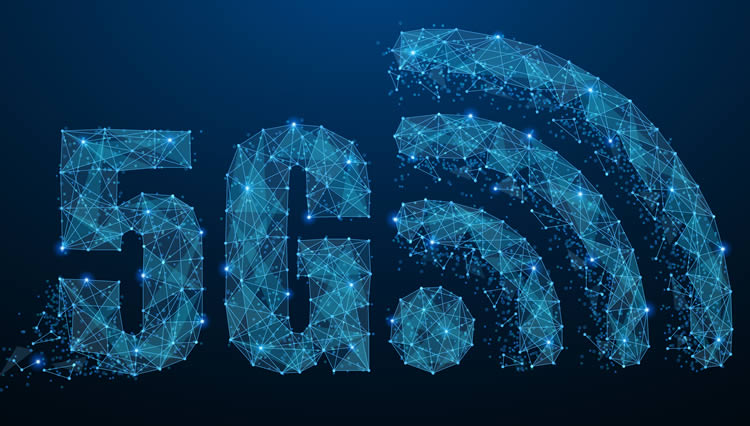 In 20 years, Wi-Fi has become the most widely used wireless technology with over nine billion devices in use around the world. It allows us to keep connected at home and when we're out and about, often faster and more reliably than 4G and without eating into our data plan. But how will it stack up against what 5G will offer, and will they work in tandem with or against each other? Read on to find out!
What is Wi-Fi?
Wi-Fi has been around for two decades, starting out as a way of connecting multiple devices to a home router without cables, and evolving into one of the most ubiquitous and standardised protocols in the tech world.
According to the Wi-Fi Alliance, there are now more Wi-Fi devices in use globally than there are people on earth – over nine billion of them – and that number is growing more rapidly than ever before: three billion devices were shipped in 2018. Over half of the world's internet traffic travels over Wi-Fi networks and it adds nearly $2 trillion to the global economy every year.
Wi-Fi in the UK
We've been using Wi-Fi in our homes for years, but Wi-Fi has become increasingly available in public places like hotels, restaurants, buses and trains as UK operators have rolled out public Wi-Fi hotspots. In many cases use of these hotspots is now free as those running the public areas recognise the benefits of offering free Wi-Fi to attract customers and keep them happy, or just to keep up with the competition.
Multiple, different mobile operators operate public Wi-Fi hotspots. Some are free for their own customers to use while others are free for everyone.
BT is the most widely deployed with over five million hotspots across the country. They are free for BT customers but come at a cost for everyone else, with packages ranging from one hour to a year of unlimited use.
The next largest public Wi-Fi operator is Virgin Media with over 3.5 million hotspots, including in around 150 London Underground stations. Access to the latter is free for customers of Virgin Media broadband, Virgin Mobile, EE, Vodafone, O2 and Three, while there's a small cost for other users.
In addition to being able to use Virgin Media Wi-Fi in Tube stations, O2 operates its own hotspots which are free for everyone to use although there's a monthly download limit for non-O2 customers. But its Wi-Fi network is far smaller than the others, with just 15,000 hotspots nationwide.
Sky's public Wi-Fi, known as The Cloud, is free for Sky broadband customers but charges for non-customers vary by venue. Once connected, all users get unlimited downloads. Sky claims to have thousands of hotspots but doesn't give any more specific info.
There are also a number of portable Wi-Fi routers on the market, which can be used anywhere to create a personal hotspot and allow up to 10 devices to be simultaneously connected. This provides the same function as a home router but with a SIM card instead of being connected to a phone socket. They're easy to use and relatively cheap, plus with an appropriate SIM card they can be used anywhere in the world to avoid high data roaming costs.
Wi-Fi is still a key factor in the UK population's use of mobile phones for internet access. Ofcom collected data on a panel of users with Android phones and access to 4G technology between September and December 2017. The panellists used apps over Wi-Fi rather than 4G 75% of the time, up from 69% a year earlier.
There are a number of factors behind this. First there is a quality broadband infrastructure, on which Wi-Fi depends for internet access, across much of the country. Ofcom's findings showed mobile networks were used more frequently during the day and Wi-Fi use was higher in the evening and at night, i.e. when users were at home.
Another issue is cost: Wi-Fi is free to use at home, and often out and about, while most of us have mobile data allowances that are expensive to breach. Then there's the growing availability of public Wi-Fi hotspots which makes it easier to access while out of the home. Finally, there's the issue of user experience. Although it's difficult to say with certainty that this was a factor, Ofcom found that the average response time on Wi-Fi was significantly lower (25ms) than on 3G (60ms) and 4G (50ms), although all were well under the 100ms latency that is considered adequate to provide a good experience.
Wi-Fi standards
Every new generation of Wi-Fi standards has increased capacity and throughput in dense environments, extended network range and reduced power consumption to give us better, faster and more reliable connectivity.
In October 2018, the Wi-Fi Alliance introduced a simpler and more user-friendly naming system for Wi-Fi generations, which applies to the Wi-Fi technology supported in devices as well as the Wi-Fi technology available for the network connection. At the same time, the alliance announced the latest iteration, Wi-Fi 6, the certification programme for which will be introduced in the third quarter of 2019.
| Generation | IEEE Standard | Release Date |
| --- | --- | --- |
| Wi-Fi 1 | 802.11b | 1999 |
| Wi-Fi 2 | 802.11a | 1999 |
| Wi-Fi 3 | 802.11g | 2003 |
| Wi-Fi 4 | 802.11n | 2009 |
| Wi-Fi 5 | 802.11ac | 2014 |
| Wi-Fi 6 | 802.11ax | 2019 |
There are also further Wi-Fi standards for specific next-generation applications, including:
Wi-Fi CERTIFIED WiGig provides multi-gigabit speeds for line-of-sight scenarios in the 60GHz bands for high bandwidth uses such as AR/VR and HD streaming.
Wi-Fi CERTIFIED Vantage is designed for managed networks in public venues like train stations, stadiums and shopping centres, with high performance connectivity, network intelligence and smooth transitions as users move within the network.
Wi-Fi CERTIFIED HaLow delivers long range and low power for Internet of Things applications around smart homes, connected cars, digital healthcare and industry 4.0.
Wi-Fi 6 vs Wi-Fi 5
As with previous generations, Wi-Fi 6 will provide capacity, coverage and performance (in terms of both speed and latency) improvements over Wi-Fi 5. Without getting too technical, these improvements are possible because encoding and decoding chips have become more powerful, so they can encode and decode data more efficiency. In a nutshell, more data is carried over the same radio waves resulting in higher throughput.
Wi-Fi 6 vs Wi-Fi 5: Speed and capacity
| | Wi-Fi 5 | Wi-Fi 6 |
| --- | --- | --- |
| Data transfer rate in 2.4GHz band | - | 1.1Gbps* |
| Data transfer rate in 5GHz band | 1.3Gbps | 4.8Gbps* |
| No of streams in 2.4GHz band | - | 4 |
| No of streams in 5GHz band | 8 | 8 |
* Speeds may be higher in the finalised standard
While the majority of Wi-Fi 5 devices only operate in the 5GHz bands, Wi-Fi 6 works across both 2.4GHz and 5GHz bands (thus creating more channels – 12), and with superior performance and capacity in the latter. The 5GHz bands are less congested so have less interference, but 2.4GHz is better at getting through solid objects. Furthermore, the Wi-Fi Alliance is working on incorporating support for 6GHz bands into Wi-Fi 6 in anticipation of those bands being freed up for unlicensed devices.
Wi-Fi 6 will also deliver better performance in crowded environments, whether that's in a public place, busy office, apartment block or a home with lots of connected device, as well as lower power draw for better battery life.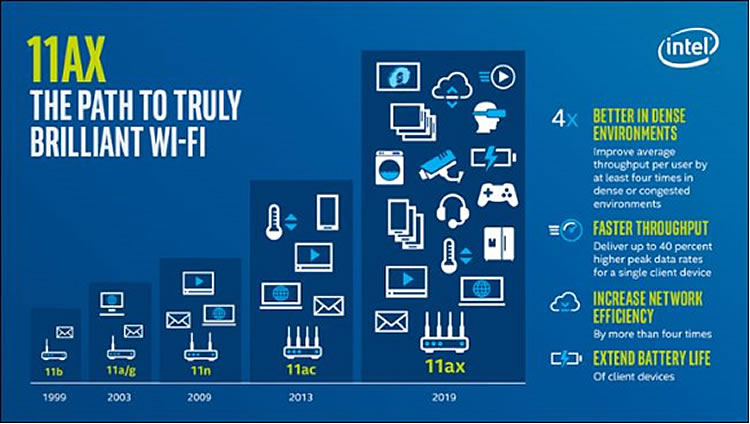 The key features of Wi-Fi 6 are:
Uplink and downlink orthogonal frequency division multiple access (OFDMA) enables Wi-Fi 6 to divide a wireless channel into a large number of sub-channels, each of which can carry data for a different device. Essentially the Wi-Fi access point (AP) can talk to more devices simultaneously, increasing efficiency and lowering latency in crowded areas.
Multi-user multiple input, multiple output (MU-MIMO) will allow more data to be transferred at one time, enabling APs to handle larger numbers of devices simultaneously. With Wi-Fi 5 the AP could talk to multiple devices at the same time, but the devices couldn't respond at the same time. And Wi-Fi 6 doubles the number of MU-MIMO transmissions from four to eight.
Transmit beamforming for higher data rates at a given range to increase network capacity.
1024 quadrature amplitude modulation mode (1024-QAM) to increase throughput for emerging, bandwidth-intensive use cases.
Target wake time (TWT) will significantly improve battery life in WiFi devices, including those for IoT uses.
Wi-Fi 5 already supports high-resolution video streaming, Wi-Fi calling, smart home monitoring, hotspot access, automation of city-wide services, residential virtual and augmented reality (VR and AR) applications, and seamless roaming. Wi-Fi 6 will provide connectivity for a wide range of advanced use cases in connected homes, connected enterprises, IoT, smart cities, carrier services and public venues, including streaming of Ultra HD movies, VR/AR for business uses like telepresence or healthcare monitoring, multi-party gaming, and mission critical business applications.
Wi-Fi vs 5G
Wi-Fi delivers relatively affordable performance, operates efficiently in unlicensed spectrum, is easy to deploy and use, and provides long-term forward compatibility to cater to next-generation use cases with backward compatibility to support legacy devices. Since 2000, the Wi-Fi Alliance has completed over 40,000 WiFi certifications ensuring devices are compatible and secure. New certifications will deliver performance and capacity improvements that will support many next-generation use cases, including IoT-type applications needing low power draw (Wi-Fi HaLow) and super fast speeds (WiGig).
Wi-Fi can be introduced where and when it is needed without significant investment in new infrastructure or spectrum by operators, and it is easy for users to upgrade to next-generation Wi-Fi devices as and when they choose. With more unlicensed spectrum being freed up there's a good chance Wi-Fi will continue to grow unabated as an ideal connectivity platform supporting a wide range of new applications, including those envisaged by 5G.
So why do we need 5G?
First, there's the issue of availability. Even with the growth of public Wi-Fi networks, coverage is nowhere near as ubiquitous as mobile. So, mobile networks will still be needed to provide coverage where it is impractical or not cost effective to deploy Wi-Fi. This issue becomes more apparent when we consider the obligations Ofcom has imposed on the UK's mobile operators to boost 4G coverage nationwide, and the promised ubiquity of 5G.
Crucially, Wi-Fi does not support network slicing, a key feature of 5G that sets it apart from any mobile or wireless technology that's gone before it. Network slicing will maximise the flexibility of 5G and enable many different services to be delivered over the same network, whatever their network requirements and performance needs. Research is still ongoing into making network slicing work, but it's unlikely that Wi-Fi will be able to deliver the same capabilities, within the same timeframe.
Wi-Fi and 5G
While Wi-Fi may have benefits that match or even exceed 5G, the likelihood is that it will not be a question of either/or, but that Wi-Fi will complement 5G. Indeed, the underlying principle behind 5G is that it will be a heterogeneous network incorporating multiple networks and technologies and supporting a wide range of devices.
Wi-Fi already plays a crucial role in reducing traffic congestion in mobile data networks by offloading data traffic, and it will continue to do so as 5G is rolled out – and possibly beyond.
It's likely that, at least until 5G is widely deployed, 5G will be used more frequently outdoors and in large areas with lots of traffic, while WiFi will take precedence in the home and office, as well as in places like buses, trains and the London Underground.
What's next?
The first 5G services are expected to launch in the UK later this year, while Wi-Fi 6 standards and hardware are also expected towards the latter part of the year. Once they're available, there'll be more Wi-Fi 6-enabled devices than there will be 5G, and likely at a far lower cost. Pre-standard Wi-Fi 6 chipsets are already available from major suppliers, and Wi-Fi 6 adoption is expected to be far swifter than 5G. ABI Research predicted in November 2018 that Wi-Fi 6 chipset shipments will reach one billion annually by 2022, with 5G-enabled devices taking six years to hit the same level.
In fact, it won't necessarily be a conscious decision to upgrade to the latest device: new routers, smartphones, tablets and other Wi-Fi-enabled devices will come with Wi-Fi 6 as standard. However, in order to get the benefits of Wi-Fi 6 you'll need enabled sending and receiving devices, i.e. a new router and a new smartphone.
And one crucial issue will need to be worked out before we can enjoy the combination: Wi-Fi and 5G standards will need to be integrated to ensure full compatibility between the two. That's been a slow process with both 3G and 4G and should be a priority for global regulatory, standards and certification bodies going forward.