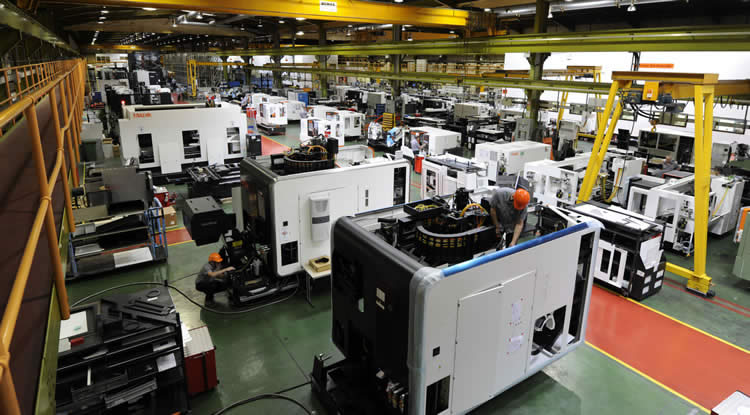 A Worcester-based factory is set to trial 5G technology as part of the UK government's testbed programme.
Yamazaki Mazak (a Japanese machine tool builder) is a member of the Worcestershire 5G Consortium, which was awarded £4.8 million in March for 5G trials. The Consortium aims to focus on areas such as cybersecurity for 5G, robotics, big data analytics and augmented reality. Above, shows the factory floor located at Badgeworth Drive, Worcester.
Industry 4.0
The Yamazaki Mazak facility has been chosen as a 5G test site because of the work the company has been doing around Industry 4.0. Industrial applications are one of the key areas where 5G has the potential to add significant value.
Notably, Yamazaki Mazak has developed SMOOTH, a Computer Numerical Control (CNC) technology which gathers and analyses factory floor data to enable faster, better-informed decisions and therefore increased output.
The company says its SMOOTH tool can act as the catalyst for the adoption of Industry 4.0 principles and practices, and that 5G will push the limits of these possibilities further.
For example, in the future, Yamazaki Mazak envisions a factory where all aspects of production are connected and analysed throughout the entire product lifecycle. Automated scheduling and advanced digital simulations of components aim to cut energy and wastage, speed up production and minimise downtime.
Marcus Burton, of Yamazaki Mazak, said: "Manufacturers across the UK and beyond are now reaping the productivity rewards of greater connectivity among their industrial equipment. Industry 4.0 centres on the key design principals of interoperability of machines and devices, greater data transparency, technical assistance and decentralised decision making. We are starting to see these factors become more commonplace among UK manufacturers, but current internet speeds can only take us so far."
He added: "The 5G Testbed represents a hugely exciting opportunity to drive further productivity growth, and facilitate even faster data transfer and analysis for manufacturers."
A boost worth billions
Some estimates have suggested that 5G in manufacturing could lead to productivity increases of up to 1% overall. In the first quarter of 2018, UK manufacturing output stood at £44.6 billion. A 1% increase would equal an additional £1.78 billion in value over the course of the year, which could have a significant impact on the UK economy overall.
The Worcestershire 5G Consortium is led by the Worcestershire Local Enterprise Partnership and also includes Worcestershire County Council, the 5G Innovation Centre at the University of Surrey, AWTG, Huawei, O2, BT, and Malvern Hills Science Park – where the testbed team is based.