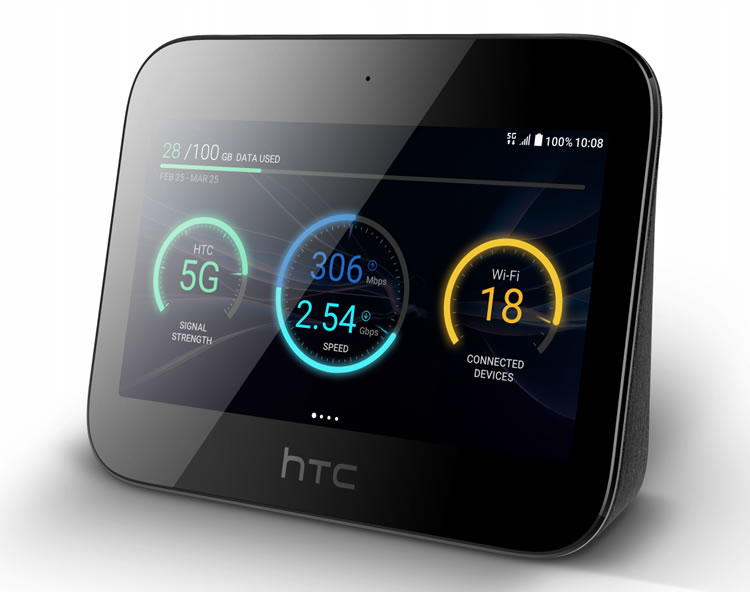 Hot on the heels of launching the UK's first 5G network, EE is now the first in the UK to offer 5G mobile broadband plans, so you can get other devices online at superfast 5G speeds.
The plans, which are available now, include the HTC 5G Mobile Smart Hub. This is a mobile broadband device that can connect up to 20 devices to EE's 5G network at once, across a range of 30 metres, and it's battery-powered, so you can use it anywhere.
But this is no ordinary mobile broadband device, as beyond supporting 5G speeds, the HTC 5G Mobile Smart Hub also has a 5-inch HD touchscreen. It also runs Android 9 Pie and has a top-end Snapdragon 855 chipset (the same as you'll find in cutting-edge handsets like the OnePlus 7 Pro 5G). Plus the device has 32GB of built-in storage and a microSD card slot.
So in other words it's a smartphone-like device in its own right, one which can be used to watch videos and even play games, as well as acting as a hotspot for other devices.
Two plans to choose from
If you want an early taste of 5G mobile broadband you can grab the Mobile Smart Hub for £500 as a standalone device, but EE has two different 24-month contracts, both of which drop the upfront cost down to just £100. On one of these plans you then get 50GB of data for £50 per month, while the other gives you 100GB for £75 per month.
Edward Goff, Marketing Director at EE, said: "With the HTC 5G Hub, we're seeing mobile experiences typically associated with tablets and smartphones combined with the practicality of a mobile broadband device and portable battery. With such a diverse product, we're the only UK network that allows users to enjoy the fastest mobile connectivity in more places."
Before jumping on board you should check you actually have 5G coverage in your area – currently EE 5G is only available in parts of London, Cardiff, Belfast, Edinburgh, Birmingham and Manchester, but it's coming to parts of Glasgow, Newcastle, Liverpool, Leeds, Hull, Sheffield, Nottingham, Leicester, Coventry and Bristol later in 2019.
If you want 5G mobile broadband from any other UK network you'll have to wait longer, as at the time of writing none of them even have a 5G mobile service – though Vodafone will be launching its 5G service on July 3rd.
And if you want 5G broadband in your home then that could soon be an option, as EE is set to launch a 5GEE Home Router sometime soon, while Three and Vodafone have also announced 5G home broadband plans.