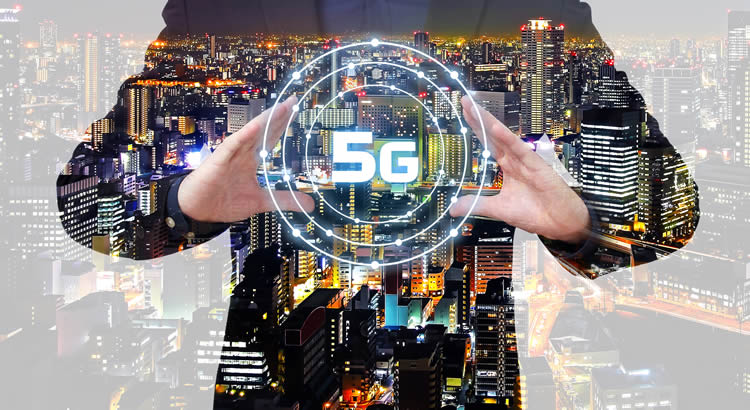 5G trials are well underway across the world, and the results so far tell us that consumers and enterprise web users could be benefiting from blistering new speeds, reduced latency and increased capacity before too long.
While the former of those two groups is no doubt looking forward to superfast downloads and ultra-high-quality streaming, the latter – businesses and their employees – will be more interested in how their operations could change.
First, Fixed Wireless Access
5G and its promised speeds are set to benefit businesses massively, but it's unlikely to be mobile connectivity that makes the biggest splash. It's widely accepted that Fixed Wireless Access (FWA) is where most of 5G's game-changing potential lies.
FWA has long been available as an alternative means of delivering internet connectivity, but never before has it matched up to its more conventional counterparts in terms of speed, cost and reliability. 5G is poised to change that by delivering throughput of 1Gbps and more and latency as low as 1ms. These are significant enhancements not only on the current wireless standards (3G, 4G) but also on existing fixed-line solutions – and their likely next evolutions. It would likely be the case that only true fibre to the premise could compete with 5G FWA, and the logistics and costs of rolling that out on a wide scale are huge.
The capabilities we can expect from 5G FWA are all but confirmed, then. But what opportunities will these unprecedented speeds create?
The big data benefits
Today's businesses are fuelled by data. When used properly, the colossal caches of information harvested by hardware, software and everything in between can be incredibly powerful – it can influence sound business decisions that in turn lead to greater efficiency.
The rate at which data volumes are growing, however, does present challenges for businesses. International Data Corporation (IDC) expects the digital universe to reach 44 zettabytes in size by 2020, with the average human – i.e. each employee – generating 1.7 megabytes of new data every second. This would be near-impossible to manage with current connectivity standards, but 5G will give businesses the power they need to capitalise. Here's how:
A greater use of resources
Vastly-improved throughput will allow organisations to move huge volumes of data around quickly, minimising disruption and downtime. Cloud-dependent employees can download files of all sizes without impacting resources – and rapidly too, meaning attention can be directed to more pressing tasks. It is also expected that 5G will be able to dynamically alter its uplink/downlink configuration dependent upon what business users are trying to do; meaning uplink-dependent businesses will not be disadvantaged.
The power to be truly reactive
When data is available so quickly, it can be used to influence decisions much sooner – meaning businesses are able to react properly to fast-changing circumstances. This is relevant to most modern enterprises, but it's especially pertinent in fields like trading, where low latency is essential.
This kind of responsiveness will help companies better serve clients and customers, while also creating better collaboration opportunities with partners – domestically but even more so globally.
Easing the pressure
With so much technology at hand, today's businesses need connectivity. But as organisations continue moving away from physical hardware and closer to the cloud, pressure will mount on existing infrastructure. At present, there are two options: leave processes to slow and suffer as a result, or invest more in keeping up.
FWA has a significant advantage in deployment compared to the directly comparable fibre to the premises. Once an area is enabled for 5G FWA, any business within it should be able to purchase a router-like unit from their preferred supplier. This is, after all, a standardised technology. They'd then place that in their office to receive connectivity from said supplier. Fibre to the premises, on the other hand, requires roads to be dug up and would need engineers to install, and all of this can take considerable time. Moving offices and providing home connectivity to peripatetic workers obviously benefits too.
5G promises the power and speed to help businesses harness the cloud's power fully, without taking up as much space or budget as existing solutions. 5G Fixed Wireless Access will support crucial cloud applications at base, while superfast mobile connections ensure an increasingly nomadic workforce can remain productive on the go.
The Internet of Things
We've already seen plenty of examples of how technology can replace human attention in business environments; from self-scan checkouts in supermarkets to the more complex logistics robots working in Amazon's warehouses. Connectivity has a huge part to play in this shift, especially going forward.
The Internet of Things (IoT) has already been dubbed by experts and commentators as the 'next industrial revolution', and there's little doubt that 5G is crucial to the next stages of its development. The speeds and latencies seen in trials to this point will allow businesses to lean much more heavily on automated processes, increasing efficiency and freeing up resources. Sensors will transmit, receive and process data in real-time, triggering actions in all kinds of equipment and software – from security systems to manufacturing machinery.
5G and FWA have an increasing role here. The lower frequencies targeted for 5G use - the so called 'pioneer' bands (@700MHz in the UK) - will allow relatively low bandwidth cover over wide areas. This is ideal for above-ground and external simple sensors. For complex sensors, like those used for high-frequency updates or relatively complex data, the high frequency (28GHz) mmWave systems currently being trialled will be more suitable.
This is not a complete solution; many sensors will still be located in areas that don't have mmWave coverage, or indeed in complicated environments such as basements. In these circumstances, dedicated low-frequency networks will continue to be needed. The UK smart metering network in the north of England is a prime example.
Watch this space
Work is already well underway in bringing 5G in all its forms to the masses. The results of the trials we've seen so far point to an exciting next decade for businesses of all sizes.
SMEs looking to capitalise on the cloud's potential will have the power to do so comfortably and efficiently, helping them to keep up with their respective industries. Larger businesses, on the other hand, will start to see plenty of exciting new opportunities in areas like big data, the IoT and machine learning.
These concepts are influencing companies already, but the superfast connectivity will ensure the potential of each can be realised fully. It's clear that now is the time for the enterprise world to pay close attention to the early developments in 5G.
The above is a Guest Post from Arqiva which is a leading UK communications infrastructure company enabling a vibrant digital economy. Find out more about Arqiva here.
Image credit: Shutterstock