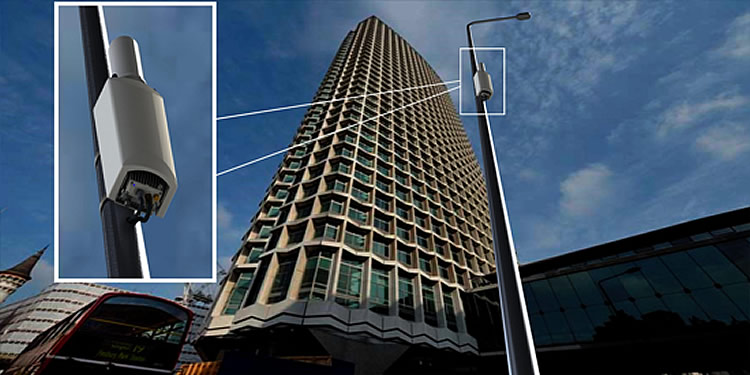 Arqiva (a leading UK communications infrastructure company) and CityFibre (the UK's largest alternative provider of wholesale full fibre infrastructure) have just announced a multi-million-pound pilot project that will see a 15km high density fibre network constructed in Hammersmith & Fulham.
This is multi-operator capable, so all mobile networks will be able to make use of it, and it's the UK's largest pilot of wholesale, 5G-ready small cell infrastructure. The fibre network involves both a fibre ring and over 90 cabinets, which provide a shared space for multiple networks to place small cells.
If you're a regular reader of the site you'll know that small cells will be at the heart of 5G infrastructure, so this gives networks a place to put them. Arqiva additionally describes the fibre network as offering "increased, scalable and cost effective backhaul capacity."
While the network itself was installed by CityFibre, it placed some of the equipment on street furniture which Arqiva had access to through a concession contract with the borough.
Thousands of lampposts in 14 areas
We've written before about a similar arrangement that Arqiva has with the London borough of Waltham Forest, where it has gained exclusive access rights to 16,000 lampposts in the area, and in Lambeth, where it has access to around 15,000.
But in all Arqiva has these street furniture concessions in 14 London regions, with the other eleven being Barnet, Brent, Camden, Haringey, Harrow, Hounslow, Islington, Kingston-Upon-Thames, Merton, Richmond upon Thames and Wandsworth.
This sort of work could make a vital difference, particularly in busy areas like London, where mobile networks will face congestion. On that note, David Crawford, Managing Director of Telecoms & M2M at Arqiva, said:
"This pilot network is a massive step forward for mobile and fixed wireless connectivity in London. We are showing that ubiquitous high-speed connections using dark fibre and small cells are possible and we are delighted to be leading the way with our pilot in Hammersmith & Fulham. As demand for data continues to increase exponentially, the pressures on networks will continue to grow and densification using street furniture and small cells is critical to deliver the network of the future."
Arqiva is also working with O2 to install 300 small cells across London. CityFibre meanwhile, is – among other things – working to deploy the world's only Software Defined Access (SDA) operating system (OS), which should speed up the deployment of 5G and smart cities.
Useful read: