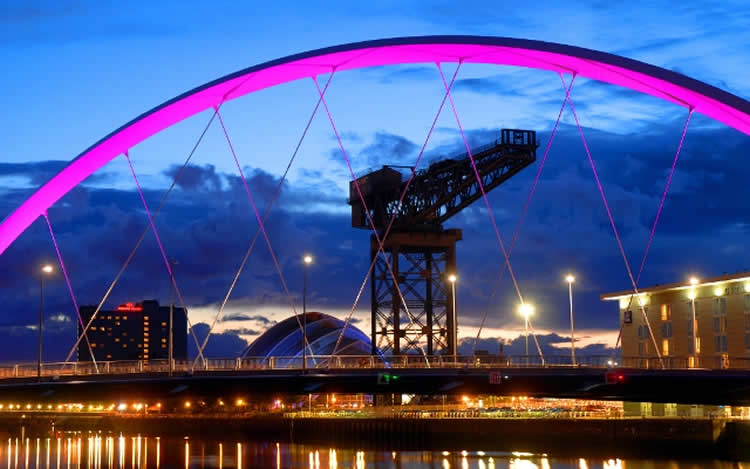 Glasgow is bidding for up to £100 million funding to trial uses of 5G to boost its economy and especially improve health, entertainment, education and employment opportunities. The Department for Digital, Cultural, Media and Sport (DCMS) is offering funding for this Urban Connected Communities Project as part of its 5G Testbed and Trials Programme.
The deadline for submissions is 31 May 2018 and the DCMS' decision is expected by the end of July. The project is to design wireless infrastructure in a major city of more than 500,000 that delivers high quality connectivity, while enabling applications running on 5G to be trialled in parallel. DCMS says the scheme is also open to cities with populations below 500,000, if they have strong, clear digital vision and leadership.
If Glasgow secures the funding, it would be used to explore how 5G could be used to improve daily life, according to Glasgow's City Council, with particular attention to addressing issues like health, poverty and unemployment.
Cross-sector collaboration would be key to the city's project which would involve the city council and partners in the public, private and academic sectors, as well as not-for-profit organisations and small- to medium-sized enterprises. Different sectors could test various deployment models for 5G infrastructure which ultimately will help inform the development of policy and regulation to support national 5G deployment.
A transformative technology
For instance, 5G could be used to transform media and entertainment (the technology will enable broadcasts of live events from many more venues in the city than is possible with the current broadcast technology), virtual reality and gaming. It will also support super-fast connection to a greater range of connected devices, from intelligent street lights and connected cars to smart watches.
DCMS specifies that the design must target 'pinch-points' with poor connectivity in cities, for example, in locations such as city centres, where heavy demand, rather than lack of signal, creates a not-spot. DCMS has specified the mixture of network technologies should include Wi-Fi in buildings (such as public and council premises) with single sign-on roaming. This could need a dense network of small cells or deployment of more macro cells.

Councillor Susan Aitken, Leader of Glasgow City Council, said, "Glasgow has ambitions to be a world class city in which everyone flourishes and, if successful, this funding bid could help put us ahead of the curve in digital connectivity.

"Glasgow has a growing economy with a thriving tech sector, a highly skilled workforce, two Innovation Districts and world-class sporting, conference and entertainment venues. We have also proved our ability to deliver large scale, leading- edge technology projects with the £24m Future City Glasgow programme."
Glasgow seems like a decent candidate then, but it could have some tough competition, as Aberdeen has also made a strong play for funding.
Useful read: What are 5G Testbeds