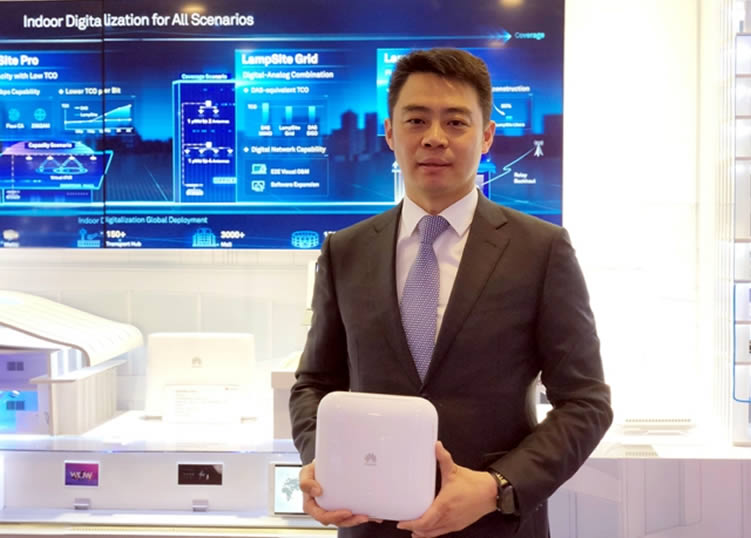 Huawei has released its latest small cell product, the 5G LampSite, to help operators build indoor coverage for 5G more easily as demand is forecast to surge.
The Chinese vendor says it is the first multi-band indoor 5G small cell solution to support both 5G NR (New Radio) and 4G LTE. The system can use CAT6A Ethernet or the optical fibre cables laid out for 4G LampSite deployments to transition to 5G, meaning that complex engineering work and changes to network planning are not required.
To date, indoor coverage solutions such as distributed antennae systems (DAS) have not adequately addressed the shift to 5G, Huawei says.
Ritchie Peng (above), President of Huawei's Small Cell Product Line, explains: "Signal attenuation is more severe in both air interface and through feeders on the high-band frequencies introduced to 5G. To use DAS in 5G, a large number of head ends need to be added or [moved closer] to signal-source RRUs. To support 4T4R, DAS requires three times as many feeders and other devices as the existing 1T1R systems."
This is impractical, Peng said, and it won't guarantee a stable and reliable network.
Four in a box
Huawei says that higher bands such as C-Band and 4T4R multiple antenna technology will be crucial to support a good experience for indoor 5G users.
Huawei's 5G LampSite supports C-Band and Sub-3GHz bands; LTE and 5G modes; CAT6A Ethernet or optical fibre multiple transmissions; and eMBB/IoT/navigation services – all 'in one box'.
When 5G launches, estimates suggest that 70% of the new services that use it will be in indoor venues such as offices, hotels and conference centres, transportation hubs and sports stadiums, creating higher demand for ubiquitous indoor coverage. Forecasts suggest that capacity density in indoor spaces is set to increase eight-fold over the next five years, so devices such as the 5G LampSite will be vital for providing coverage.
Testing 5G
This is just one of many 5G announcements Huawei has recently made though. Earlier this month, Huawei extended its partnership with BT. The latest agreement will see the companies conducting live trials of 5G NR and working together to develop core 5G network technology and customer premises equipment (CPEs).
The work will contribute towards Huawei's goal of testing real-life 5G performance across varied environments. The company is also working with other operators, such as Germany's Deutsche Telekom, to achieve this.
At the same time as announcing the partnership with BT, Huawei revealed its first 5G chipset, the Huawei Balong 5G01. Huawei say it is the first commercial chipset globally to support 3GPP standard for 5G.
Useful reading: What is 5G Fixed Wireless Access (FWA)
Image: Huawei