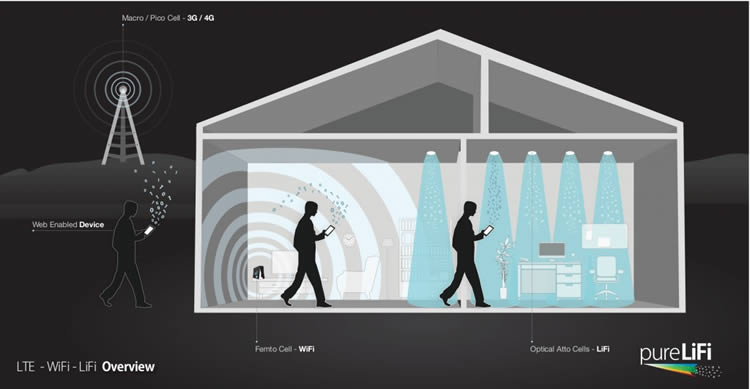 02 is running a Li-Fi trial at its headquarters in Slough, using LED lightbulbs to deliver fast wireless connectivity.
The trial is being run in partnership with Li-Fi provider, pureLiFi, and 02 says the initiative is part of its network trials towards launching 5G in the UK.
Where Wi-Fi which uses radio waves, Li-Fi (short for Light Fidelity) uses 'visible light' from LED bulbs to transmit data.
O2 has installed pureLiFi's LiFi-XC system, which is made up of nine Li-Fi-enabled LED light bulbs, in the Explore Room at its Slough offices. Using adjustments in bulb brightness, the system transmits data between the LEDs, creating a high-speed, wireless network.
Why Li-Fi?
Li-Fi technology is an emerging area of connectivity. It typically works alongside, rather than replacing, Wi-Fi, 4G or 5G. However, 02 reckons the system it is trialling could be a "serious contender to Wi-Fi," noting that the use of light spectrum rather than radio frequencies could be safer, more secure and more reliable. The Li-Fi approach could also cut energy consumption and infrastructure complexity, 02 says
Another aspect of Li-Fi that interests mobile operators is that, for now at least, the spectrum is free, compared to radio spectrum, which is expensive, as we have seen in recent spectrum auctions. This could allow operators to unlock new bandwidth at a time when IoT devices and features such as video are using more data than ever. Data usage is expected to surge when 5G is rolled out.
Further, according to another Li-Fi provider, FireFly LiFi, the visible light spectrum is 10,000 times larger than the whole radio frequency spectrum.
Derek McManus, O2's Chief Operations Officer, said: "At O2 we're committed to building the best network possible for our customers, and a huge part of that is making sure we're ahead of the pack in testing the latest technology.
"Our Li-Fi trial shows how you can deliver high-speed connectivity to customers in new ways and is another example of how we're future-proofing our network as we pave the way for 5G in the UK."
Bright ideas
Analysis from Markets & Markets suggests that the Li-Fi industry is growing fast and forecasts that it will soon be worth over $6 billion (£4.41 billion) a year, a compound annual growth rate (CAGR) of 82% since 2013.
Li-Fi does have some limitations too, though. It can't travel through walls, for instance, but it can bounce off them and move around corners.
In some scenarios, these parameters are useful. For example, the inability to penetrate walls can make Li-Fi a good choice in critical situations when communications need to be locked down to one room.
Guide: What is Li-Fi?