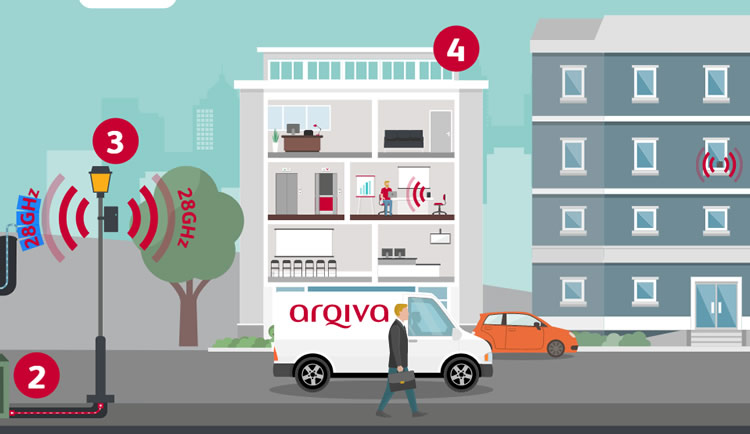 BT is urging the industry to do away with exclusive access agreements to local council-owned street furniture, such as lampposts and CCTV poles, to encourage faster and less costly deployments of 4G and 5G small cells in city centres across the UK.
Many local councils have entered into agreements with mobile operators or infrastructure providers that grant them exclusive access to street furniture for installing telecom equipment like small cells. Under the current concessions model, any other mobile operator that needs access to the lampposts must pay a wholesale fee to the company with exclusive access rights.
BT believes this model is unfair, increases deployment costs and will discourage investment in 5G. Furthermore, BT believes that the new Electronic Communications Code, which came into force in December 2017, nullifies such exclusivity agreements.
The UK incumbent proposes an open access model, whereby all mobile operators would have equal and open access to street furniture by paying a low-cost, flat fee to the local authority. To kick things off and encourage the industry to follow its lead, BT said it will end its own exclusive access agreements. BT has exclusive street furniture concessions in nine local authorities in Glasgow, Cardiff, Brighton, Plymouth, Carlisle, Newcastle/Gateshead, Nottingham, Gloucester and Leicester.
Next month, BT will hold a workshop in Birmingham with local authorities and mobile operators to discuss the benefits and practicalities of implementing an open access model. The workshop is hosted by the West Midlands Combined Authority (WMCA) and Mobile UK. The WMCA runs a regional 5G test bed, called the West Midlands Urban Connected Communities 5G Project, as part of the UK government's 5G Testbed and Trials programme.
Henry Kippin, WMCA Director of Public Service Reform, said: "The timing and spirit of this Open Access initiative is ideal as we will make faster progress through operators and public services working together to a shared agenda so that 5G can fulfil its full potential in driving economic growth that can benefit all our diverse communities. We are looking forward to welcoming authorities from across the UK and all the mobile operators who will come together and set out a new way of working together."
The Lamppost Land Grab
The land grab for lampposts and other street furniture started with the rollout of 4G small cells, as operators looked to fill in mobile coverage and boost capacity in high usage areas. Since 5G is expected to require far denser deployments of small cells to meet higher capacity requirements, getting affordable and timely access to street furniture will be a much bigger deal for mobile operators.
Access to street furniture and local authority assets has long been an issue for outdoor small cells, and the Small Cell Forum along with 5G Americas recently warned that the issue could hinder 5G.
UK companies have already started to leverage access to street furniture to build 5G-ready infrastructure to support dense deployments of 5G small cells. For example, Arqiva has concessions agreements with 14 London boroughs for street furniture and it is working with O2 to deploy 300 small cells.