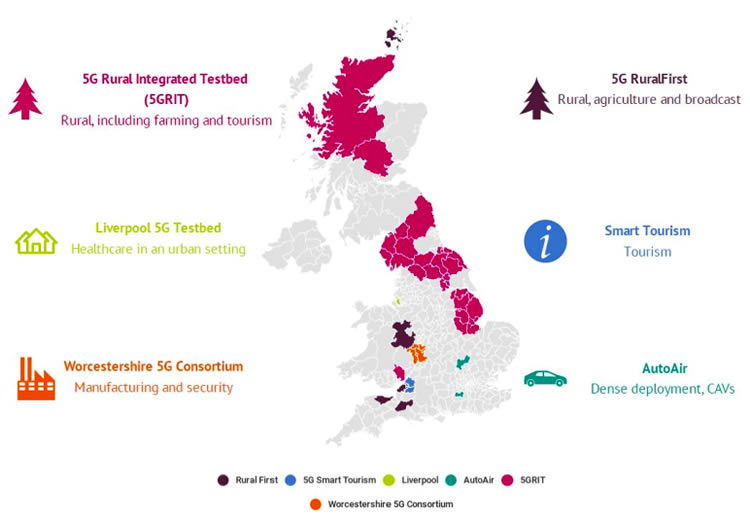 It's not just mobile networks that are working towards a 5G future, it's also the UK government, and it has recently provided an update on what it's currently working on to that end and what its future plans are.
Most of this work is done under the 5G Testbeds and Trials Programme (5GTT) banner, a programme which aims to help ensure the majority of the UK has 5G coverage by 2027. To that end, the 5GTT is currently working on the following:
£5 million has been allocated to consider business models for improving 5G connectivity on roads. As part of that a feasibility study is looking into the demands for applications of 5G on roads.
£35 million has been set aside for projects to enhance connectivity on trains. This will include trialling 5G track-to-train connectivity on the TransPennine route between Manchester and Leeds, and creating a 5G testbed at Network Rail's 'Rail Innovation Development Centre' at Melton Mowbray.
£10 million has been allocated to test and ensure the security of 5G networks, in collaboration with the National Cyber Security Centre.
Six organisations (see above drawing)
Those are all relatively recent projects, but the 5GTT has already created and demonstrated various 5G test networks, including public demonstrations across the UK. Six organisations have also won contracts totalling £25 million to test 5G technologies and use cases across the UK.
The 5GTT update also notes that the UK5G Innovation Network was launched back in March and that this advises the 5GTT programme.
Looking ahead
So that covers what's been done and what's in progress, but what next for the 5GTT? There's some information on that too.
For one thing, it has set up the Urban Connected Communities (UCC) project, which, in collaboration with the West Midlands Combined Authority, will build a large 5G testbed in an urban part of the UK. The testbed will be used to trial developing technologies designed for the delivery of both public and commercial services, with an end goal of supporting economic development by stimulating the 5G ecosystem. £50 million is currently set aside for the UCC project and an additional £25 million may be added later.
Then there's the Rural Connected Communities (RCC) programme, which going forward will be used to explore new technical solutions and commercial models with a goal of improving coverage. However, specific initiatives probably won't begin until next spring.
£25 million has also been set aside to support 5G trials and testbeds focused on the manufacturing and logistics sectors – though other sectors may also be considered. These projects will be explored this year and commence in full in 2019.
Finally, the 5GTT Programme notes that it is considering various smaller scale projects that might be funded to help "build and sustain the development of the 5G ecosystem". They don't go into any details but say these could cover a wide range of activities and that more details will be shared later in 2018 or in 2019, so stay tuned.
Useful read: What are 5G testbeds?