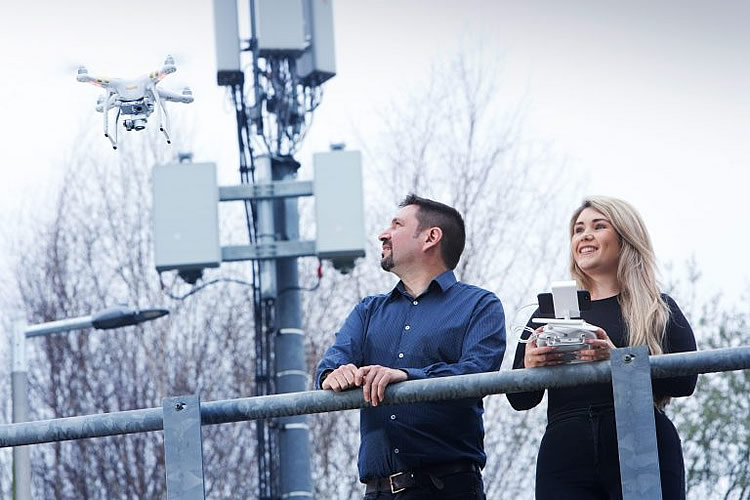 Vodafone is claiming a first in the UK with its trial of new 5G spectrum across a live network.
The test, which was completed yesterday, marked the first time that the 3.4 GHz radio frequency for 5G has been used in the UK. It also took place just one week after Vodafone UK won the largest chunk of the bandwidth in the recent Ofcom spectrum auction, setting it back £378.2 million.
The 3.4GHz band has been earmarked specifically for 5G use. The 2.3GHz band, which was also included in the Ofcom auction, is useable now for 4G but will be beneficial for 5G too.
Vodafone called the test a "major milestone" for the UK telecommunications industry. It carried out the trial between its offices in Newbury and its Manchester contact centre site, where over 1,000 customer service agents work.
Massive MIMO
It was testing Massive MIMO (multiple input and output) technology, alongside 3.4 GHz spectrum running over the core 4G network. Higher frequencies carry information faster but not as far as lower ones, so they rely on smaller MIMO antennae to boost signals and capacity. Estimates suggest that this will mean 5G will be able to support up to 1,000 more devices per metre than 4G.
Taking to the skies
Jade Knight, Head of Network Deployment for the South, and Peter Rodriquez, Head of 5G (above), used drones to monitor the status of the Newbury mobile site without needing to switch the service off. Vodafone increasingly uses drones to check antennae positions across its 16,000 UK mobile sites.
Vodafone UK says it will use the 3.4 GHz spectrum it acquired last week to deploy 5G services, such as connected cars, robotics, industrial factories, and virtual and augmented reality. The spectrum has a twenty-year term and it can then be converted to perpetual licences.
Vodafone UK Chief Executive Nick Jeffery said: "5G will improve the quality of our lives and transform how we work. This next generation technology will enable medical services that could save lives, from remote surgery to remote care for the elderly.

He added: "It will enhance industrial applications, from automated systems to robotics, helping manufacturers across the UK boost their productivity. And it will enable families to share their experiences with loved ones wherever they are, thanks to innovations like augmented reality."
Vodafone says it will push on with preparing its network for 5G, as well as continuing to invest in 4G.
Useful read: What is 5G?
Image:Vodafone UK