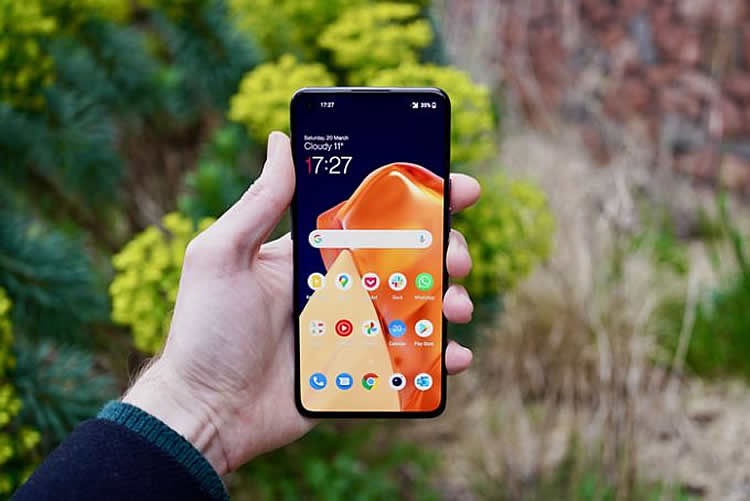 | Pros | Cons |
| --- | --- |
| Top-end power | Plastic frame |
| Silky-smooth screen | No telephoto camera |
| Great ultra-wide camera | No water resistance rating |
Verdict
The OnePlus 9 has most of the core elements of the OnePlus 9 Pro while costing significantly less. There are certainly compromises here, which isn't something you'll find with the Pro model, but from the screen to the camera to the core specs and power, most aspects of this phone are still great, especially when you factor in that lower price.
Full Review

Specifications

Specs
Full Review
While the OnePlus 9 Pro is a true, cutting-edge flagship, the OnePlus 9 is more in line with the phones OnePlus made its name with – phones that have a mix of fairly high-end and very high-end specs, at an appealingly low price.
So it doesn't have all the bells and whistles of its sibling, but many of the core specs are the same or similar, and by cutting things down in strategic places, OnePlus has managed to keep the cost significantly lower.
So is the OnePlus 9 the best balance of price and performance? Or are you better off spending more (or less) and opting for a 9 Pro, a OnePlus Nord, or something from another brand? Read on to find out.
Screen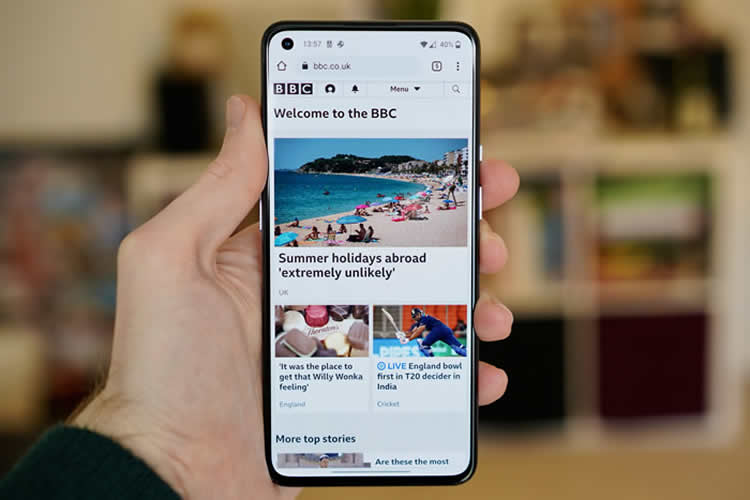 The OnePlus 9 has a 6.55-inch 1080 x 2400 Fluid AMOLED screen with 403 pixels per inch. That makes it slightly smaller and lower resolution than its sibling or most other flagship phones, but unless you're holding it right up to your face the difference in crispness won't be noticeable.
And the screen isn't devoid of premium specs, as it has a flagship-class 120Hz refresh rate, plus support for HDR10+, and a high maximum brightness of 1,100 nits.
The screen here is flat, and lacks the higher touch response rate offered by the OnePlus 9 Pro (which can be particularly helpful when gaming), but overall it's a strong panel, offering similar specs and performance to the Samsung Galaxy S21, for example.
Design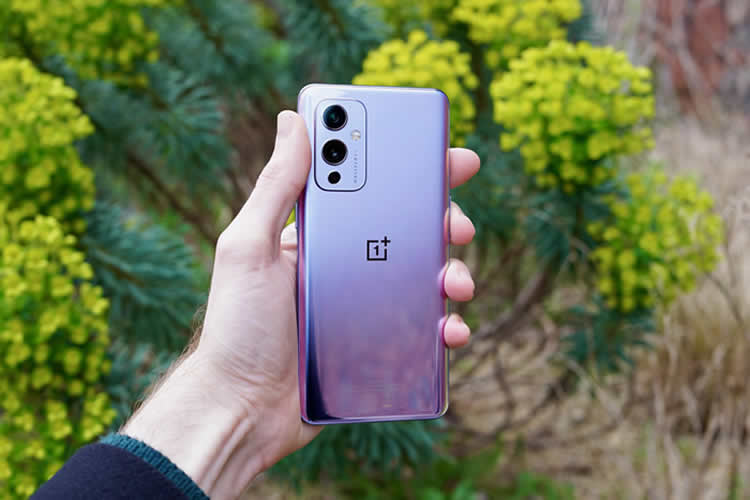 The OnePlus 9 doesn't have the most inspiring design, and in fact it's arguably a slight step down on that front from the OnePlus 8T, as it has a plastic frame, which isn't something you expect on a premium phone. That said, Samsung has made this more acceptable by giving both the Galaxy S21 and the Samsung Galaxy Note 20 a plastic back. Here at least the back is glass.
Other than that there's a large camera block in the top left corner, a logo in the centre, and a punch-hole camera on the front. It looks reasonably good and reasonably expensive, but plain. There's also no water resistance rating here, which is a shame but not a surprise, since OnePlus reserves that for Pro models.
One thing we do have to shout out though is the colour options of Winter Mist (purple), Arctic Sky (blue), and Astral Black, which we prefer to the selection offered on the OnePlus 9 Pro – but that's subjective.
In any case, the OnePlus 9 comes in at 160 x 74.2 x 8.7mm and 192g, making it a middling size and weight, and slightly chunkier than the OnePlus 8T. This is actually more manageable in the hand than many modern phones, but it's certainly not small.
Power
One area where compromises haven't been made is power, as the OnePlus 9 has a top-end Snapdragon 888 chipset, paired with a choice of 8GB or 12GB of RAM. That's the same as the OnePlus 9 Pro, and competitive with the top phones from any brand.
That means you can expect brilliant performance from it, whether gaming, photo editing, multitasking, or whatever else. You can max out the graphics settings in games without a hitch, and this performance also ensures the OnePlus 9 is more future-proofed than some phones.
Camera
The OnePlus 9 has a triple-lens camera, with a 48MP f/1.8 main snapper, a 50MP f/2.2 ultra-wide one, and a 2MP f/2.4 monochrome one. That last one boosts black and white shots, but it's the former two that you'll mostly be using.
Of those, the ultra-wide is arguably the most interesting, as it's the same one as you'll find on the OnePlus 9 Pro, meaning it uses a freeform lens designed to avoid the distortion that can often be found at the edge of ultra-wide shots taken on other cameras. This lens also works surprisingly well for macro shots.
The main camera also stands up well, offering decent colour reproduction (helped by OnePlus's new partnership with Hasselblad), but not quite rivalling the best camera phones around, such as the iPhone 12, especially in low light scenes.
We're also disappointed that the OnePlus 9 lacks the Pro model's telephoto lens. Still, taken in the context of this phone's lower price, all these complaints are minor.
And you do also get video recording at up to 8K quality, along with a capable 16MP camera on the front.
Features
The OnePlus 9 has a mix of standard and less common features. On the standard front there's an in-screen fingerprint scanner, stereo speakers (with Dolby Atmos), and Android 11 on board (with OnePlus's slick and bloat-free OxygenOS overlay).
When we say those features are standard, we more mean standard at the high-end – once you're paying upwards of £500 for a phone, they're the sort of things you'd expect, but cheaper handsets don't always have these things.
In terms of less common features, the OnePlus 9 also has a physical alert slider on the side. This allows you to mute the phone or switch it to vibrate, and it's a really convenient way to do it, as you don't have to fire up the screen.
Battery life, memory, and connectivity
There's a 4,500mAh battery in the OnePlus 9, which is the same size as the one in the OnePlus 9 Pro. That's notable because that phone has a larger, sharper screen to power. So does that translate to longer life here? Slightly perhaps, but it's negligible. You'll comfortably get through a day but would be hard pressed to reach two.
It's worth noting that the OnePlus 9 lacks the adaptive refresh rate technology of the 9 Pro, which might hurt it here, as on the 120Hz mode it will always be running at that refresh rate, while the OnePlus 9 Pro can dial it down to conserve life when 120Hz isn't needed.
In any case, the OnePlus 9 also has 65W fast charging, which again is a match for the Pro, and up there with the fastest wired charging you'll find on any phone. There's wireless charging too, but that's a much lower power 15W.
For storage, there's a choice of 128GB or 256GB, but with no microSD card slot that's all you get, so choose carefully. That said, even the smaller of those two sizes affords a decent amount of space.
Connectivity meanwhile includes 5G, Bluetooth 5.2, and NFC.
Verdict
The OnePlus 9 is great phone for what it costs. Its power matches much more expensive handsets, while its screen, battery and cameras are all at least in line with the price.
It's slightly disappointing that the frame is plastic, but you'll quickly forget, especially if you put it in a case, and we'd have liked to see a telephoto camera and some water resistance, but we can live without that for the money.
In most other ways though this phone excels, making it another excellent entry in the OnePlus catalogue.
Specifications
Camera: 48MP, 50MP and 2MP (16MP front-facing)
Operating System: Android 11
Internal storage: 128GB/256GB
Expandable storage up to: None
Processor make: Qualcomm Snapdragon 888
Processor: Octa-core
RAM: 8GB/12GB
Pixels per inch (PPI): 402ppi
Screen size (inches): 6.55
Resolution: 1080 x 2400
Battery capacity (mAh): 4,500
Colours: Winter Mist, Arctic Sky, Astral Black
Dimensions (mm): 160 x 74.2 x 8.7
Weight (g): 192