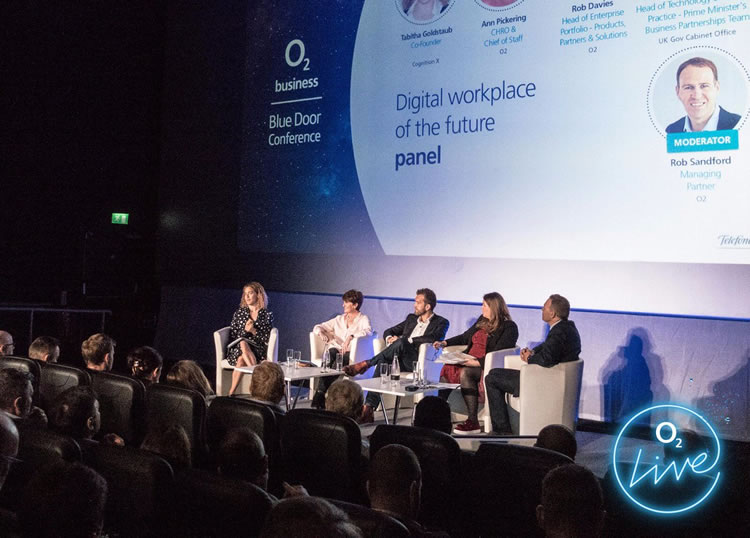 Visitors to O2's Blue Door Conference recently had the chance to see themselves as holograms, thanks to technology demonstrated at the 5G Innovation Centre (5GIC)'s booth.
The 5GIC team gave visitors augmented reality (AR) glasses which allowed them to view the hologram of themselves from various angles and see it interspersed with real-world surroundings for an immersive experience.
Holograms have typically seemed like something from a sci-fi film, but 5G could make the technology a reality for everyday uses. Early demonstrations such as 5GIC's and others show a possible glimpse of the future.
Livestreaming
The 5GIC booth also featured a 4K 360-degree livestreaming service, powered by multi-access edge computing technology. 5GIC has developed a technique which means that viewers can watch 4K-quality livestreamed content with no buffering. Wearing virtual reality (VR) glasses, the 4K stream allowed users to view themselves from up above, providing something of an out-of-body experience.
The applications demonstrated at the event have been developed on 5GIC's 5G testbed based at the University of Surrey. The testbed can now support over a million users and is open for companies to come and test their applications on it.
Regius Professor Rahim Tafazolli, Founding Director of the 5GIC, said: "The start of the 5G era is right around the corner and our demonstrations at the O2 Blue Door Conference were a wonderful opportunity for the 5GIC to show what our world-leading 5G testbed has allowed us to achieve.
"We have so far been able to demonstrate low-latency network support for remote vehicle control, real-time holographic teleportation, and super-fast rendering of VR entertainment. We believe there is so much more to come from 5G, and we are excited to play our part in shaping this future."
The Blue Door conference took place at the O2 Arena, while O2 itself is one of the founding members of the 5GIC.
Holographic calling
This wasn't the only recent holographic demonstration, as Vodafone recently also completed the UK's first live holographic call over 5G. England and Manchester City Women's Football Captain, Steph Houghton MBE, was projected as a hologram from Manchester to Newbury. She provided football tips to young Manchester City and Lionesses fans.
Hologram technology, enabled by the high speed and low latency of 5G, has a number of potential applications – particularly making conference calls and video calling feel like all the participants are in the same room. This could have significant implications for cutting business travel and, of course, helping people stay in touch better with work contacts and loved ones.
Experts say holographic calls for you and I could be possible in the next five years. For now, some kind of headgear or enclosed 'cave' is required for the experience to work, but in a few years' time we might need nothing more than our smartphones.
Useful read: How fast is 5G?