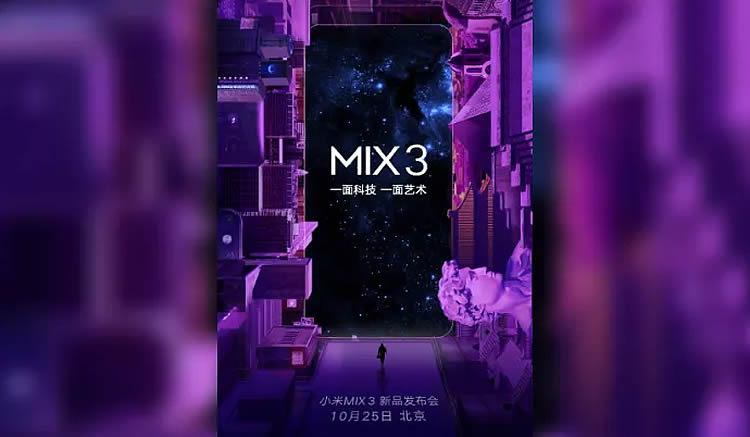 Chinese smartphone manufacturer Xiaomi looks set to launch what could be the world's first 5G phone next week – well ahead of the roll-out of 5G networks.
Xiaomi's Mi Mix 3 is scheduled to launch on October 25. Not all the details of the phone have been made available yet but reports say the manufacturer has confirmed the phone will come with 5G support and 10GB of RAM.
Early teasers of the Xiaomi Mi Mix 3 phone suggest it will have a sliding mechanism for the front-facing camera, where it's only visible when you slide it out from the top of the phone. The Mi Mix 3 is also rumoured to have a facial recognition feature as well as a full bezel-less screen and an in-display fingerprint sensor.
We also don't know how much the phone will cost yet, but early 5G phones are likely to be expensive.
Too soon?
Strategy Analytics predicted that commercial 5G phones are likely to go on sale from early 2019, but doesn't expect sales to scale up until 2021. However, given all the hype around 5G, many companies are jostling to be among the first to launch new handsets. In phone markets that have been sluggish and over-saturated, 5G phones offer the long-awaited chance to provide something genuinely new and demonstrate innovation.
Sony, LG, Samsung, OnePlus, Huawei and Apple are all rumoured to be in the running to be among the first to launch 5G handsets.
However, commercial 5G networks are not expected to launch until next year or 2020, so it's unclear just how much benefit users will see from a 5G phone without a 5G network.
In the UK, EE and BT are likely to be first to launch, with late 2019 roll outs planned. The other networks will probably start launching 5G networks in 2020.
In the future, 5G phone features could include support for virtual reality and augmented reality, new form factors, 3D video calls, more power and more. Further down the line some even say we could be able to project holograms. So the future's bright, it just might be coming a bit too early.