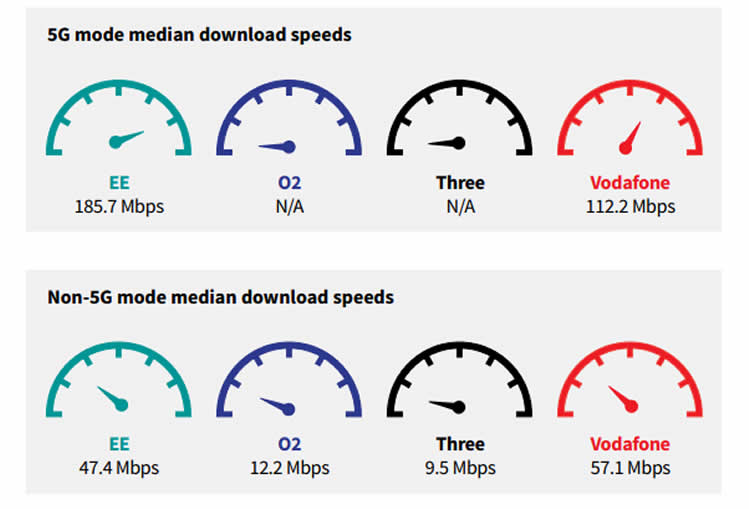 RootMetrics recently tested the nascent 5G networks of EE and Vodafone in Birmingham and revealed how the new technology performs in real-world conditions. The results showed that EE's 5G speed and availability outperformed Vodafone's.
EE's median 5G download speed was 185.7 Mbps, which is four times faster than the operator's non-5G download speed of 47.4 Mbps across the UK. The maximum speed that EE achieved was 450.9 Mbps.
Vodafone's 5G median download speed was 112.2 Mbps, which is twice as fast as its UK median non-5G speed of 57.1 Mbps. The maximum speed that Vodafone hit in Birmingham was 366.9 Mbps.
Note: o2 and Three have not launched 5G to-date in Birmingham and so have a zero 5G mode result.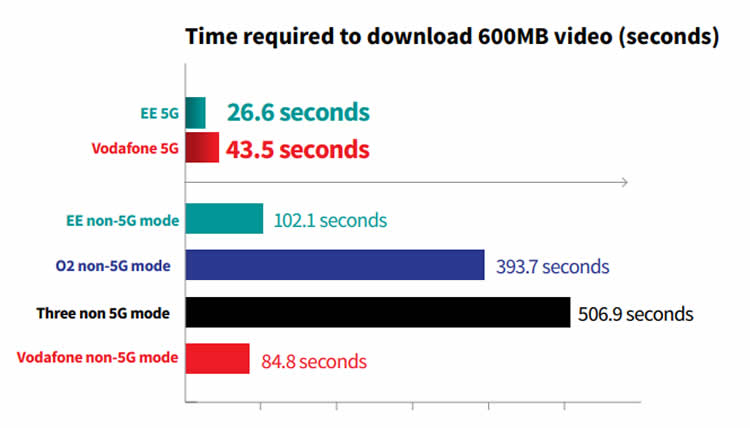 To put the median 5G speeds into perspective, it would take 26.6 seconds to download a 600MB video on EE's 5G network. And it would take 43.5 seconds to download the same video on Vodafone's 5G network. Compared to O2 and Three -- which have not yet launched 5G in Birmingham – downloading a 600MB video on their non-5G networks would take 393.7 seconds and 506.9 seconds, respectively.
In terms of availability – that is, how often users can actually connect to 5G – EE was again superior. EE's 5G availability rate was 51.6% while Vodafone's 5G availability rate was 10.9%.
RootMetrics noted that EE's 5G rollout footprint in Birmingham is wider than Vodafone's, which explains the disparity in availability. Also, measures of availability rates provide perspective for users on how often they can expect to access 5G speeds.
5G in the real world
Rootmetrics has provided an early look at what the 5G experience will be like for consumers with its tests in Birmingham. The test methodology involved driving 168.6 miles, walking the city streets and sampling 25 indoor locations. The phones used during the tests, which lasted from end of August to late September this year, were the OnePlus 7 Pro 5G on EE and the Xiaomi Mi Mix 3 5G on Vodafone.
As EE and Vodafone build out more coverage and as more users take up 5G services and devices, the speed and availability results will likely change over time. And when Three and O2 launch their respective 5G services in the city, users will have more choices as well. Three plans to launch 5G in Birmingham before the end of this year, while O2 plans to launch 5G there in 2020.