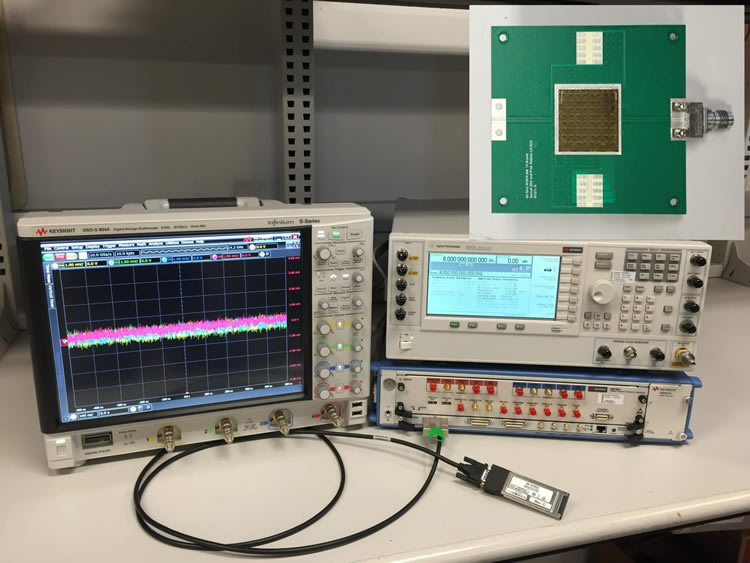 Keysight Technologies has worked with the University of California, San Diego (UCSD) to demonstrate the world's first 64 (8 x 8) and 256-element (16 x 16), 60-GHz silicon wafer-scale phased-array transmitter with integrated high-efficiency antennas for Gbps communications at 100 to 200 meters.
The demonstration proves that a 5G communication link is possible and that better yet it provides record performance.
The achievement follows an earlier collaboration between Keysight and UCSD, which led to the creation of the first 64- and 256-element system-on-a chip (SoC) phased arrays operating at 60-GHz. These were designed to meet the needs of 5G high-performance Gbps data-rate communication systems with beamforming capabilities.
This latest demonstration shows that's these SoCs can be used in a communications link and was achieved using a variety of Keysight's instruments and software.
"The Keysight suite of equipment and software, with its ease of use and technical support, proved essential to enabling the rapid demonstration of the 100-200 meter 802.11ad and 5G link and allowing our phased-array to scan +/-45 degrees in all planes," said Dr. Samet Zihir, post-doctoral fellow at UC San Diego.
"We are very happy to have partnered with Keysight on this project, and we look forward to using this equipment and software suite on networked 5G systems."
"Keysight is actively involved in 5G standards development and is fully committed to innovating the solutions needed to accelerate deployment of the next generation of wireless communications," said Mark Pierpont, vice president and general manager of Keysight's Communications Measurement Solutions.

"That's why we are so proud to have collaborated with UC San Diego on the 5G communication link. It not only represents a significant advance in the realization of 5G, but also paves the way for future research and development of millimetre-wave communication systems."