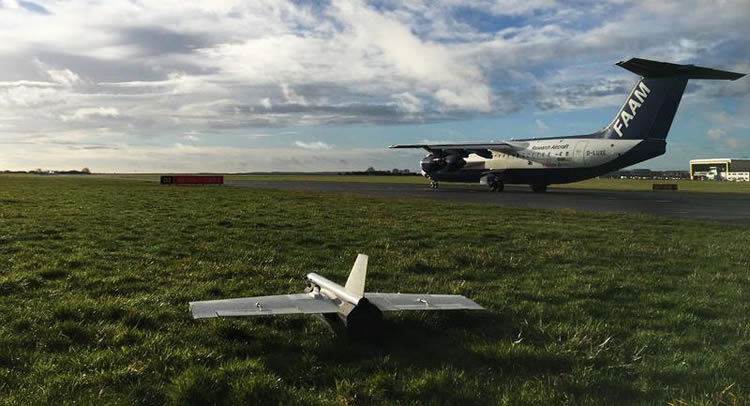 The 5G Rural Integrated Testbed (5GRIT) is getting off the ground with the launch of a test flight facility in Bedfordshire for 5G-enabled beyond visual line of site (BVLOS) flying for drones.
Blue Bear, a UK managed service provider and systems integrator for unmanned systems, announced the official launch of the new test facility where its drone control system leverages 5G network technology.
Blue Bear set up the UK's first air corridor that uses 5G for drone testing at the National BVLOS Experimental Centre (NBEC), as part of a consortium that also includes Cranfield University, Thales and Vodafone. NBEC is a 16-kilometre air corridor where drones and manned aircraft can share the same airspace. Drones are tracked and identified along the corridor using multiple elements of 5G technology to provide a Recognised Air Picture – that is, a list of all aircraft flying in a certain area.
For example, Vodafone provides the 5G mobile solutions while Thales contributes its holographic radar technology.
Blue Bear is also contributing its BVLOS drone flying smarts to a precision-farming trial for gathering images of farmland and livestock, as well as trials that collect drone imagery of network infrastructure and tourist destinations, as part of the 5GRIT testbed.
As David Walters, Blue Bear's Operations Manager, said: "We are flying drones in agricultural regions of Cumbria to monitor the health of livestock and to survey crops and investigating how 5G can help transport large volumes of 'Big Data' to anywhere in the world. In the future farmers will be able to remotely task the drones to carry out routine tasks and analyse results from the breakfast table."
UK Has True 5GRIT
5GRIT is one of the UK's six government-funded 5G testbeds, and there are multiple projects within the programme. 5GRIT has received a grant of £2.1 million to explore rural connectivity, smart farming and tourism use cases.
The testbed spans six counties in northern England and southern Scotland and tests spectrum sharing using TV white space technology for delivering 5G to rural regions.
In the tourism trial, for example, the project is developing a 5G augmented reality app, called World Around Me, to create new experiences and provide helpful information for visitors to the North Pennines region. For the rural broadband trial, consortium members are installing TV white space equipment in Loch Levin, Alston Moor and Bardney, with the aim of providing 30Mbps broadband to remote areas.