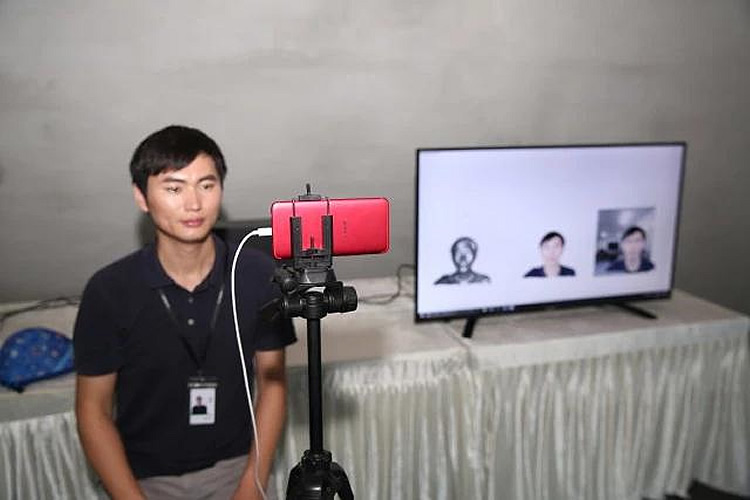 The OPPO Global Research Institute in Shenzhen reports that it has successfully demonstrated the world's first 5G video call using structured light technology, allowing 3D images to be displayed.
The team was able to reproduce a 3D portrait image on a remote receiver. The demo used colour and 3D depth information collected via a structured light 3D camera on an OPPO phone. This was transmitted via 5G NR (New Radio) terminal prototypes from Qualcomm Technologies and eventually displayed on a remote display screen.
The researchers say the demo is a milestone in showing the real applications of 5G, particularly around immersive experiences and 3D content. These areas are showing great potential in sectors such as tourism, gaming, industrial manufacturing and health.
On a Skype call, for example, the 3D imaging would allow the caller's perspective to change based on their position and angle.
Bai Jian, the Director of the Hardware Research Center of OPPO Research Institute, is quoted by the Daily News as saying: "The success of the 5G video call utilising 3D structure light technology demonstrates our innovation direction powered by the understanding of users' need and cutting-edge technology."
Commercialisation
OPPO now plans to commercialise 5G-enabled 3D video applications in its smartphones, and says consumers can expect to be using these features in around six months.
The company has pledged to become one of the first manufacturers to launch a 5G handset in 2019.
Others are also planning to bring out 5G phones next year. OPPO's fellow Chinese manufacturer, Huawei, made an announcement at its Global Analyst Summit in Shenzhen, China, recently, saying it would be releasing a 5G phone in the second half of next year. The plan was light on details but Huawei did disclose that it plans to use its own modem.
In February, Qualcomm said that its Snapdragon X50 5G NR modem family had been chosen by numerous manufacturers worldwide to put into their 5G mobile handsets rolling out from 2019.
In many cases, this roll-out will be before commercial 5G networks are live. While countries such as South Korea, China, Japan and the US are touting 5G launches in 2019 or even later this year, 5G networks may not be available in the UK until at least 2020, according to the UK's 5G strategy.
However, BT did say earlier this month that it aims to launch its 5G network within 18 months, which would mean it would be available from late 2019. EE – unsurprisingly since it's owned by BT – said the same back in February, so it could have a live 5G network from around August 2019. So it's nice to know that some 5G phones will be ready when that happens.