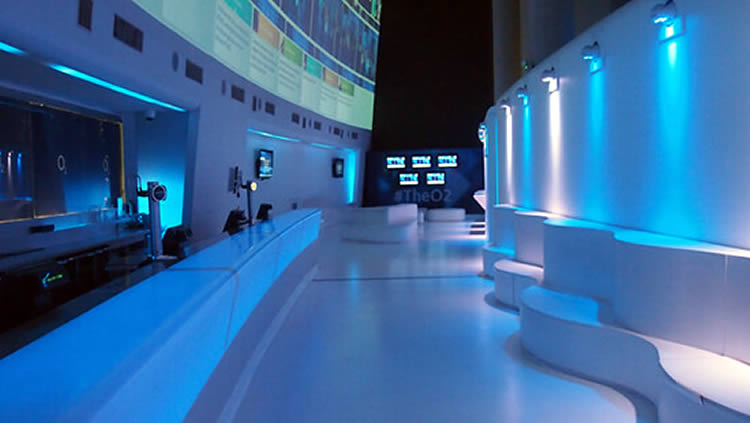 One of Britain's most iconic entertainment venues is set to play host to a new 5G test bed, offering event-goers access to 5G network speeds and services some two years ahead of time.
Later this year, The O2 in Greenwich, London will switch on its very own localised 5G network. The installation of this new 5G test bed is expected to commence in March, with visitors able to start accessing the network sometime in the second half of 2018.
This 5G access will roll out gradually at the venue, starting with the exclusive O2 blueroom VIP bar (above) and the on-site O2 store. It will then expand to cover the rest of this vast venue by the end of 2020.
Once installed at The O2, visitors will be able to enjoy a number of 5G demonstrations. These will include virtual reality, augmented reality and live streaming applications.
A perfect 5G venue
Initially built as part of London's millennial celebrations, the venue formerly known as the Millennium Dome has gone on to become the world's most popular music and entertainment venue. Since 2007, when it became The O2, it has been visited by more than 70 million people.
It's an appropriate venue, then, for the first of many planned public 5G test beds from O2. The UK network has stated that there will be more trials conducted across England, Scotland, Wales and Northern Ireland over the coming months and years.
Mark Evans, CEO of O2, said: "The arrival of 5G technology, and the range of unprecedented benefits it will bring, will play a key role in keeping our society and the British economy moving for years to come. That's why we are delighted to announce our plans to launch a 5G test bed at The O2 later this year.
O2's 5G ambitions shouldn't come as a surprise. It was around this time last year that the UK network released the findings of a study claiming that 5G would be worth more to the UK economy than broadband by 2026.
Other UK test bed locations
However, O2 isn't the first to set-up or plan for a 5G test bed. The following locations have been part funded by the Government as part of its 5G Strategy, with more to come.
Useful read: What are 5G testbeds?
Image credit : O2