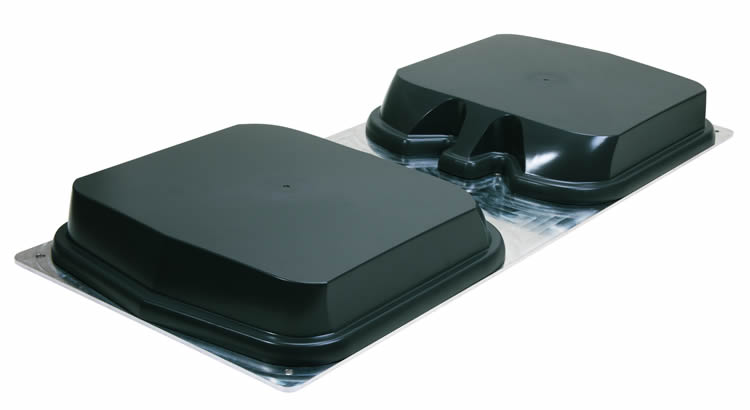 At the Transports Publics Expo in Paris last week, Huber+Suhner unveiled its Sencity Rail Multi antenna, a 5G-ready solution for vehicle-to-ground communications.
The Sencity Rail Multi antenna (above) provides train fleets with real-time on-board information, as well as high-speed passenger Wi-Fi and high-rate CCTV coverage. The connectivity will also enable better communication within vehicles and between them, improving customer service. The solution is 5G-ready and can accommodate multi-MIMO 4x4 ground-to-train communication.
The antennas, which will be available in the UK as well as elsewhere, are tailored to the rail industry's needs and protect against the impact of any contact with high-voltage overhead lines.
Huber+Suhner says it expects interest in the solution from train operators running rail services, as well as from manufacturers, rolling stock operating companies (ROSCOs), engineering consultancies, systems integrators and heavy maintenance providers. It is likely that antennas such as the Sencity Rail Multi will increasingly be specified in rail digitalisation projects and plans, according to Huber+Suhner.
Benefits
Barry Larcombe, Sales Director, Low Frequency at Huber+Suhner, told 5G.co.uk: "The antenna will be used by the train operating companies (TOCs) to help improve their customers' satisfaction by delivering connected services to the passengers such as Wi-Fi, real-time passenger information, seat reservations etc.
"The antenna is a key part of the train-to-ground solution which can also offer benefits to the TOCs, such as enabling a connected fleet where on-board ticketing and train control can be managed. This could bring benefits of improvements in reliability and performance too, as the monitoring of key assets on the train can be controlled remotely."
In the longer term, Larcombe said these advantages could see TOCs increasing their passenger miles and passenger numbers. The benefits brought by the antenna could also help TOCs secure their franchises, and possibly win new franchises, he said.
The antennas will be in operation soon and trials are ongoing.
Better connectivity for the UK
The UK government has committed to improving connectivity on trains in the UK, as part of its goal to boost productivity.
Earlier this year, Matt Hancock, Minister for Digital, said that by 2025, every train should achieve speeds of 1 Gigabit Per Second (Gbps).
In the latest National Rail Passenger satisfaction survey, just 30% of respondents said they were satisfied with onboard Wi-Fi – in fact, passenger satisfaction with toilet facilities was ranked higher.
On trains, there are potentially hundreds of users trying to access Wi-Fi at the same time -- all connected to one mast, which can't provide the required capacity. 5G technology could help to fix this issue, but infrastructure groundwork is required first, including laying fibre along the tracks, mounting wireless devices on masts and providing power for masts.
The government launched a consultation earlier this year on how this work could be funded.
In Japan last year Samsung completed a 5G demonstration on a moving train in partnership with Japanese telecommunications carrier KDDI. The trial saw peak speeds of 1.7Gbps and successfully demonstrated 8K video downloading on-board, as well as 4K video upload.