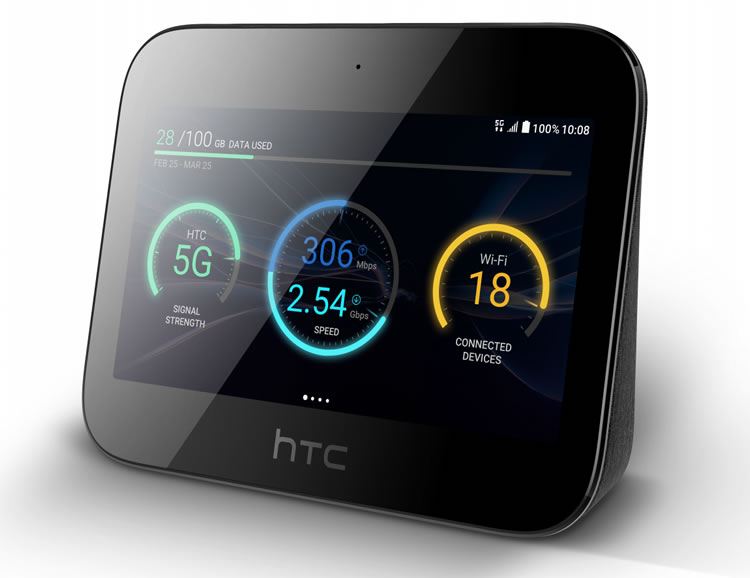 We've heard already that the HTC 5G Mobile Smart Hub will be coming to EE and now we know that it's also coming to Three.
We don't know exactly when, but the hub will start being available in some places from Q2 (April – June) so it's likely to land on Three in time for the network's 5G launch later this year.
The 5G Mobile Smart Hub is a mobile broadband device that lets up to 20 other devices – such as phones, tablets and laptops – connect to the internet at 5G speeds wherever they are, just as long as there's 5G coverage in the area.
Note: theoretical product speeds only shown in photo.
An example given of what that might allow is to stream VR content from the cloud to a VIVE Focus headset using the HTC 5G Mobile Smart Hub, with no PC or extra cables required.
Dave Dyson, CEO at Three UK, said: "HTC has a tradition of leading the way with new technologies. 5G is going to bring unimaginable possibilities to connect people to people, people to things and things to things. As a connectivity provider we are at the heart of all of it and bringing this 5G hub to the UK, will enable our customers to make the most of our leading 5G network alongside all the capabilities of this innovative device."
The hub has a 7,660mAh battery to ensure that it can last a long time, and it's powered by a Snapdragon 855 chipset and a Snapdragon X50 5G modem.Home and away
The hub also supports Wi-Fi, has a 5-inch touchscreen and runs Android 9 Pie, so you can use it as a smart display as well as a mobile broadband device. And while the HTC 5G Mobile Smart Hub is portable it's also powerful and versatile enough to replace a typical broadband connection in your home or office.
It could also have found the perfect partner with Three, as while most networks apply data limits to mobile broadband devices, thereby restricting their usefulness, Three has started offering unlimited data, even on similar products such as the 4G HomeFi, which is designed as a 4G alternative to fibre broadband.
Of course, there's no guarantee that Three will also offer unlimited data with the HTC 5G Mobile Smart Hub, but if any network is going to, Three is probably the most likely.