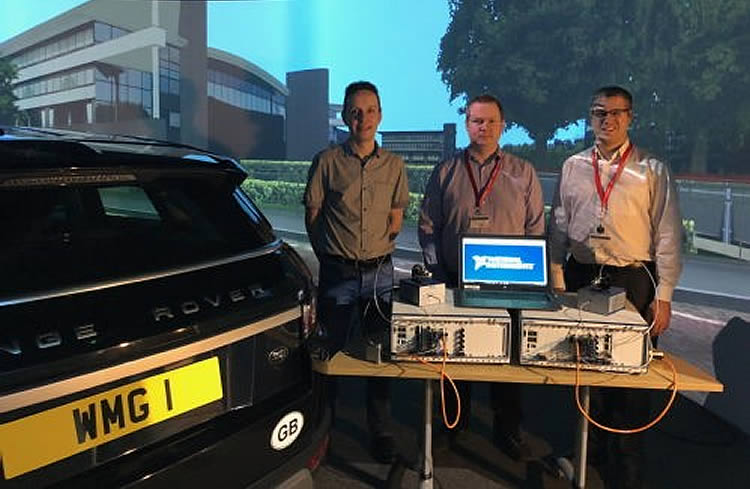 The Warwick Manufacturing Group (WMG), a department of Warwick University, is now using the UK's most advance platform for testing millmetre wave (mmWave) spectrum – a key aspect of 5G.
The researchers will use the mmWave technology platform from National Instruments (NI), and initially their focus will be on mmWave applications in connected and self-driving cars.
Above : Dr Erik Kampert, Dr Matthew Higgins and Dr Jakobus Groenewald receive the 5G mmWave platform inside WMG's 3xD Simulator.
mmWave: Challenges and opportunities
The mmWave spectrum band is between 30 GHz and 300 GHz. Operators are starting to use it due to overcrowding on traditional bandwidths. The waves are between 1mm and 10mm – compared to the radio waves that carry data today which can be tens of centimetres in length.
The telecom industry and its partners hope that mmWave technology will allow much more data to be transmitted and enable brand new products and services, including more advanced connected and autonomous vehicles (CAVs).
There are challenges to work around, though. mmWaves have short transmission paths, for instance, and they can't get through buildings or other obstacles. The waves can also be more readily absorbed by trees and rain, potentially causing interference.
Connected cars
WMG's CAV researchers are working with companies to see how incorporating mmWave can advance vehicle technology. Using the mmWave testing platform, the team is now able to help product developers understand much earlier in the development cycle what the potential and implications of using 5G mmWave communications are.
The test equipment transmits real data and real-time adjustments can be made via control software.
The researchers say their findings will have wider applications in many other industries beyond automotive. There is already interest from mobile telecommunication operators, infrastructure suppliers, vehicle manufacturers and city councils, for example.
Staying ahead of the curve
Dr Erik Kampert, HVM Catapult Senior Research Fellow, said: "Working with NI and being granted first access to their leading platforms allows us to be ahead of the creative research and development curve. This further enhances our standing as the preferred partner within the UKs CAV community."
The work has been made possible thanks to a £250,000 WMG Centre HVM Catapult award for facilities and people, as well as an equipment partnership with National Instruments (NI) for its mmWave technology platform.
Useful read: How fast is 5G?