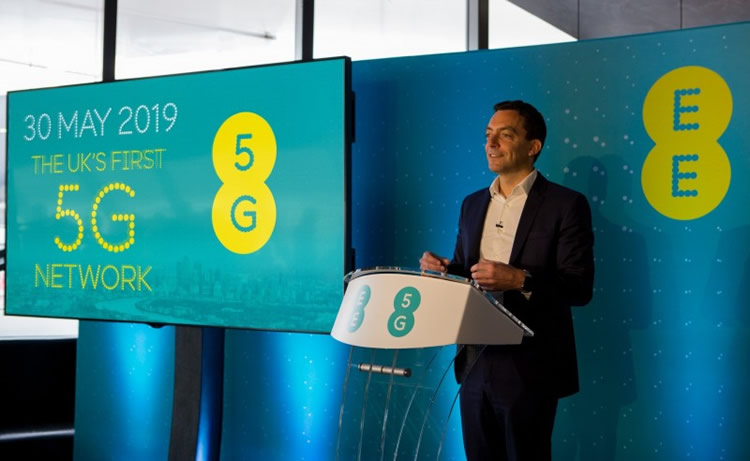 EE has finally announced when its 5G service will be going live, with the network saying that it will switch on the service on May 30th in six cities. That would put it a full month ahead of Vodafone's July 3rd switch on date, and almost certainly make EE the first 5G network.
The six initial cities to get 5G will be London, Cardiff, Edinburgh, Belfast, Birmingham and Manchester. However, the company has the ambitious goal of switching on more than 100 5G sites every month, allowing it to also bring 5G to Bristol, Coventry, Leicester, Nottingham, Sheffield, Liverpool, Hull, Leeds, Newcastle and Glasgow this year.
It's worth noting though that these places won't have city-wide coverage on day one. We already knew that these places would get EE 5G at some point this year, but the network has also announced ten more towns and cities as initial locations for 5G in 2020. You can see a full chart of what places will be getting 5G and when below.
| | | |
| --- | --- | --- |
| 5G from May 30th | 5G from later in 2019 | 5G from 2020 |
| Belfast | Bristol | Aberdeen |
| Birmingham | Coventry | Cambridge |
| Cardiff | Glasgow | Derby |
| Edinburgh | Hull | Gloucester |
| London | Leeds | Peterborough |
| Manchester | Leicester | Plymouth |
| | Liverpool | Portsmouth |
| | Newcastle | Southampton |
| | Nottingham | Wolverhampton |
| | Sheffield | Worcester |
| | | More TBC |
5G devices
EE has also now put 5G devices up for pre-order. You can place an order for the following devices:
Plus, you can register your interest in the following:
5GEE Home Router
5GEE WiFi (via the HTC 5G Hub, which is set to cost £100 upfront and come with 50GB of data for £50 per month, or with 100GB of data for £75 per month.
5G plans
As well as handsets you'll also be able to get SIM Only 5G plans on EE (though of course you'll need to get a 5G phone from somewhere to take advantage of them).
In either case, these plans are a bit different to EE's current ones. For one thing, they come with 'Swappable Benefits'. These let you choose two bonuses from a choice of five with the ability to swap them whenever you want. The options are as follows:
BT Sport app in HD HDR (worth £15 per month)
Gamer's Data Pass (worth £7.99 per month and which covers all the data you use on a range of games)
Music Data Pass (worth £7.99 per month and lets you stream Apple Music, Tidal and Deezer without using your data)
EE Video Data Pass (worth £8.99 per month and lets you stream Netflix, Amazon Video and more without using your data)
Roam Further Pass (worth £10 per month and lets you use your allowance in the USA, Mexico, Canada, Australia & New Zealand, as well as across the EU)
Note that if you take out a 120GB plan you'll instead get access to three Swappable Benefits. Some 4G plans will also get access to swappables – but only the standard rather than HD HDR version of BT Sport.
Pay Monthly 5G plans also come with EE Upgrade Anytime as standard, meaning you can upgrade your phone at any point. And EE's 5G plans give you access to EE Service packs, which provide the following:
£10 towards a premium case or screen protector
An annual device and EE mobile account MOT
An extended device warranty for the lifetime of your contract
EE's 5G smartphone plans start from 10GB of data for £54 per month and go up to 120GB for £74 per month. Apparently these prices are just £5 more than 4G smartphone plans.
For SIM Only, plans start at 20GB for £32 per month and rise to 100GB for £52 per month.
EE has also now launched 5G business plans, for both handsets and SIM Only. These come with EE's typical business extras, such as mobile security from Mobile Iron. They also include 'Data Reserve', which lets users continue to use data once they hit their allowance limit, it will just be at a reduced speed.
5G speeds
So what can you expect from 5G? Initially EE expects its customers to see an increase in speeds of around 100-150Mbps. Note that this is an increase from 4G, not the total speed – some customers in some areas could apparently exceed 1Gbps.
This will initially be powered by a combination of 5G and 4G, and is 'Phase 1' of EE's 5G rollout. This is what EE calls "non-standalone" 5G, since it falls back on 4G.
5G roadmap
Phase 1 is just the beginning and EE has already outlined its plans for the next few years, which you can see below.
Phase 2
Phase 2 of EE's plans are set to kick off in 2022, when the company will launch its "full next generation 5G core network". This will come alongside more capable 5G devices and more 5G spectrum availability, and allow for higher bandwidth, lower latency and greater 5G coverage.
That in turn will allow for more 5G experiences, such as immersive mobile augmented reality, mobile cloud gaming and real-time health monitoring.
During this phase EE will also start to bring its mobile, fixed and Wi-Fi networks together, to provide "one seamless customer experience."
Phase 3
Phase 3 is expected to start from 2023, and during this phase EE will introduce Ultra-Reliable Low Latency Communications (URLLC), network slicing and multi-gigabit-per-second speeds.
This in turn will enable the likes of real-time traffic management of fleets of autonomous vehicles, massive sensor networks with for example millions of devices measuring air quality across the entire country, and the 'tactile internet', where the sense of touch can be added to remote real-time interactions, rather than just seeing and hearing.
In other words it sounds like it's during phase 3 where the Internet of Things (IoT) will really take off, and 5G will begin to live up to its potential.
5G partnerships
Finally, EE has announced some new 5G partnerships. These include bringing 5G to the Google for Startups Campus in London, allowing said startups to benefit from 5G.
That's alongside a partnership with Niantic (the company behind Pokémon Go), which will see EE be the exclusive telecom launch partner in the UK for Harry Potter: Wizards Unite (an augmented reality game).
These sorts of games could benefit from the power of 5G, and EE customers will have access to exclusive content within the game.