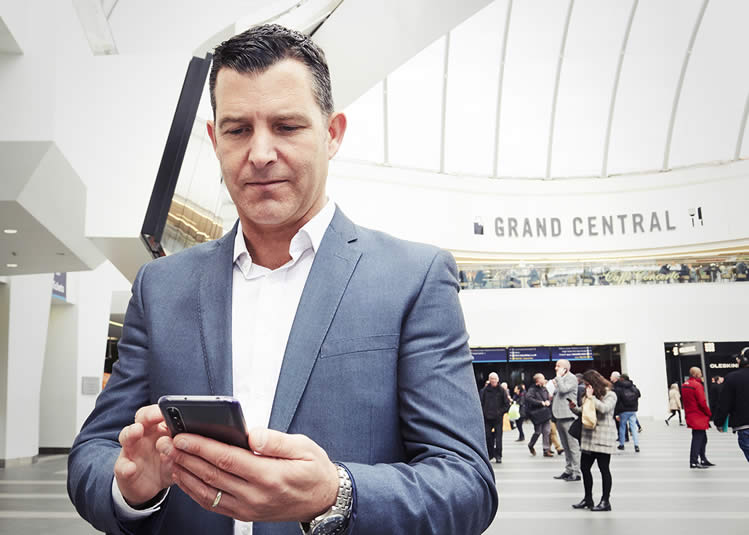 Vodafone is already trialing 5G across various parts of Birmingham and now it arrives at New Street train station. In fact, Vodafone say this is the first train station in the UK to get super-fast 5G.
Above: James Hope of Vodafone UK trials 5G at Birmingham New Street station.
The Mayor of West Midlands and passengers tested 5G at New Street station concourse and other areas of the station using a 5G router supplying Wi-Fi driven 5G (emulated 5G) to non-5G handsets. The video below shows speeds of 325MB per second being achieved.
In addition to the above, Vodafone has a further number of trial sites across the UK which are connected via its multi-billion-pound single optical fibre converged network. The trial sites include:
Real 5G launch
Vodafone confirmed earlier this year that it will launch 5G in Birkenhead, Birmingham, Blackpool, Bournemouth, Bristol, Cardiff, Glasgow, Guildford, Liverpool, London, Manchester, Newbury, Portsmouth, Plymouth, Reading, Southampton, Stoke-on-Trent, Warrington and Wolverhampton at some point in 2019.
Of course, you can't buy a 5G phone yet in the UK but Vodafone has confirmed that the first 5G handset to be available will be the Huawei Mate X.
The launch of 5G in the West Midlands is fully supported by West Midlands Combined Authority's digital communications strategy.
Anne Sheehan, Director of Vodafone Business said: "We are delighted to bring 5G to the West Midlands, giving businesses, residents and visitors fast and reliable connectivity even in exceptionally busy locations such as train stations and airports. 5G will enable new applications and experiences and support the development of connected cities and smart transport solutions. It will help businesses to implement emerging technologies such as artificial intelligence, IoT and robotics. We look forward to continuing to work with Andy Street and his team to deliver the vision of a more prosperous and digitally connected region"