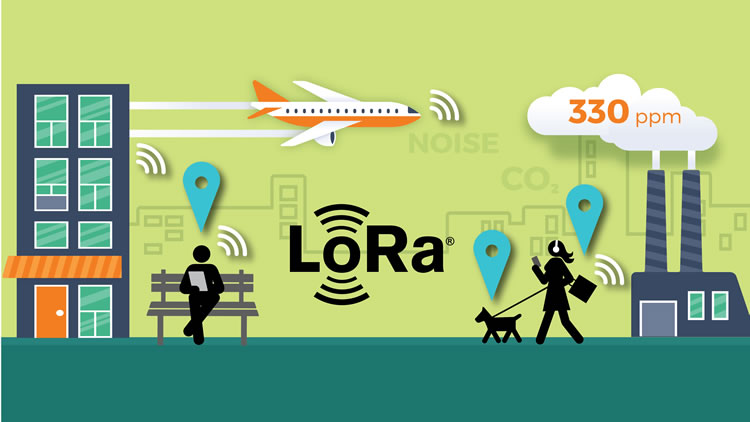 By Vivek Mohan Director of IoT, Semtech Corporation
With 5G not planned for the UK until 2019/2020, there is another technology which is already enabling companies and the planet to become smarter and more efficient. The scale and scope of long-range LoRa wireless communication is being used to deliver real-time metrics combined with low installation and operational cost around the world.
LoRa, which simply stands for Long Range, is a low power wide area network (LPWAN) for the Internet of Things (IoT).
The LoRa Technology allows data to be collected from sensors in densely-populated smart cities or from rural environments where they can be placed up to 30 kilometres apart. As the sensors are powered by batteries with a lifetime of up to 10 years they also eliminate the power-source wiring used for sensors in GSM, LTE or WiFi networks. This means that an alternative LoRa communication platform provides energy efficiency as well as simplified installation.
The data collected from the sensors are sent to a cloud-based or company-based server for analysis and processing into real-time metrics. Accessed as information or alerts via mobile media, these metrics enable governments, homes, utilities and industrial and rural businesses to make sound decisions for smarter processes.
Over the past five years there has been a 30 per cent growth in systems based on the LoRa Wide Area Network (LoRaWAN™) with more use cases being developed daily. So far the technology has been implemented in more than 100 countries with over 50 million LoRa-based devices deployed globally.
Managing energy in a smart building
Installed in a new build or retrofitted to an existing facility, the long range of a LoRa-based communication platform provides greater coverage and penetration than alternative wireless technologies.
One of the most frequent use cases is to use LoRa to monitor and minimise peak energy consumption throughout an entire building by adding sensors to thermostats, outlets and other devices. This allows lights, water heaters, drink dispensers and air conditioners to be remotely turned on or off, or to be controlled on a prefixed, energy-saving schedule. The real-time metrics support the ability to schedule tasks to be performed during low-cost periods which contributes to a reduction in energy consumption. Greater control of the resources available in each room also provides the people using the room with a more comfortable environment.
Getting smarter with vehicles
The flexibility and energy-efficiency of LoRa Technology is also advancing applications such as car parking and fleet tracking. Used in a car-parking application, the technology can enable a smart city to combine parking meters based on credit cards with remote monitoring via a mobile app. This allows field-based attendants to pinpoint specific vehicles which need to be ticketed, rather than manually checking every vehicle. The combination delivers a streamlined use of the workforce combined with maintaining the overall revenue from smart parking meters. The revenue can also be protected by using a cellular network for card validation which can almost halve the cost per unit compared to conventional parking systems.
LoRa Technology can also be used in smart fleet tracking by providing real-time data as the foundation for enhancing efficiency, fuel economy and the maintenance process. The data can enable real-time updates on customer shipments, in addition to supporting driver coaching and the tracking of vehicles as they work or when they have been stolen. They can also check that vehicles do not cross into restricted areas using LoRa geolocation which works without GPS and without an additional power source.
The real-time metrics on the performance of each vehicle allows the maintenance programme to be carried out predictively rather than performed on a fixed preventative schedule. The result can be a more targeted and cost-efficient plan for maintenance compared to the conventional preventative strategy.
LoRa-controlled smart lighting
The addition of long-range wireless communication to lighting allows the lights to be controlled remotely to reduce energy usage without affecting safety. It can also make the lighting more context aware at large events. The LoRa gateway that is used to send lighting data to the server can also be used to transmit data from other sensors which are attached to the lighting system.
In the USA, for example, a LoRa gateway is used to transmit data from microphones installed on lights to enhance safety at busy junctions. The LoRa communication therefore makes lighting more intelligent and controllable in addition to delivering greater functionality combined with a reduced installation cost.
Conserving cost and resources
The criteria which will affect the decision-making process for implementing long-range LoRa Technology are the flexibility and savings in cost and resources.
In a recent announcement, Costco, an American multinational giant has stated it is seeing a reduction of 20% in water waste and 22% savings in water bills since deploying LoRa-based Apana sensors. Apana's solution has over 500 installations worldwide and has saved over 500 million gallons of water to date. Deployments like this extend outside the smart city to include agriculture where for example Sensoterra's LoRa-enabled sensors have reduced up to 30% of water usage in soil irrigation for commercial farms.
The choice of system to use for communication is crucial to the long-term affordability of an Internet of Things (IoT) system. The option of using a cellular-based Low-Power Wide Area Network (LPWAN) in a licensed spectrum differs to LoRaWAN which operates in the unlicensed spectrum up to 1GHz or with a low-cost operator.
As an easy and proven alternative to current wireless communication networks, LoRaWAN delivers superior penetration in dense urban areas and a longer distance in non-urban areas. Added to the competitive operational cost and extended lifetime of the sensor batteries, this technology reduces energy consumption and contributes to a lower maintenance cost.
Even though the installation costs for the technology are low, companies and countries can gain knowledge and experience from the open and non-profit LoRa Alliance. The alliance has grown to 500 company members since its inception in 2015 and delivers the expertise to help companies and governments to implement interoperable LoRa Technology.
The drivers are the same for all LoRa-based initiatives. Easy installation is teamed with the affordable operation of advanced technology. But perhaps the most important driver is LoRa's capability to deliver more functionality and efficiency for companies and governments around the world.
The above is a guest post by Vivek Mohan Director of IoT, Semtech Corporation edited by K Thomas of 5G.co.uk.