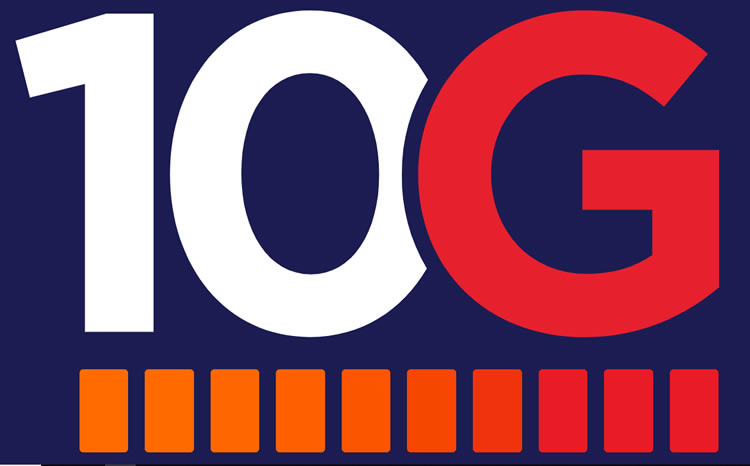 5G is finally due to arrive some time over the coming 12 months, with 5G broadband all set to spearhead the commercial rollout of this next-generation network.
It might surprise some of you, then, to learn of a new technology called 10G broadband. So what exactly is 10G broadband, and does it spell the premature demise of 5G broadband?
What is 10G broadband?
10G is a trademark of the NCTA, the US broadband industry's principle trade association. But what exactly does it mean?
The name 10G broadband might seem a little deceptive to those familiar with the concept of 5G broadband. In that latter case, '5G' literally means the fifth generation of mobile network technology, which will in many cases first manifest itself as a form of home broadband service.
The term 10G broadband, then, would seem to suggest a massive advancement on the 5G standard.
But 10G in this context doesn't mean the tenth generation of anything. Rather, it refers to the 10 gigabytes per second (Gbps) speeds that the next generation of fully wired home broadband will be able to achieve.
It's being worked on by a number of cable operators across the globe, including Comcast, Rogers, Shaw, Vodafone, Taiwan Broadband Communications, Telecom Argentina, Liberty Global and more.
So 10G is another form of wired broadband?
Yes, it is. 10G broadband is being described as the next big leap forward for traditional home broadband, which means it relies on a fully wired connection into your home rather than 5G broadband's wireless 'final mile' approach, where the gap between the major infrastructure and your home is wireless.
5G broadband should eventually be able to manage speeds of around 1Gbps. Initially, however, 5G broadband is expected to offer speeds of roughly 100Mbps, which is about the same as the faster fixed broadband speeds some of us in the UK can get today.
This new 10G broadband technology platform, then, will be capable of ramping those speeds up by factors of ten and a hundred respectively.
Besides boasting faster symmetrical speeds, 10G broadband will also feature lower latencies, better reliability, higher compute capabilities and better security than current wired broadband standards.
That said, it seems 10G broadband will be built on the established 1Gbps-ready network infrastructure that already covers much of North America, Europe and Asia. It will involve a combination of technologies that currently exist, alongside steady advancements that will be brought to market by a range of telecoms companies.
In other words, the 10G standard is something that will be built towards rather than being a single technological leap that will be activated with the flick of a switch.
What's the latest news on 10G broadband?
10G broadband made an appearance at CES 2019 in Las Vegas, where the NCTA in conjunction with CableLabs and Cable Europe introduced the cable industry's vision for delivering 10 gigabit networks.
"With groundbreaking, scalable capacity and speeds, the 10G platform is the wired network of the future that will power the digital experiences and imaginations of consumers for years to come," said NCTA President and CEO Michael Powell.

"As an industry, we are dedicated to delivering an exceptional national infrastructure that will power digital advancement and propel our innovation economy into the future."
Exactly how fast is 10G broadband?
In relatable terms, 10G broadband will absolutely blitz any current data-intensive task that you can name.
For example, you'll be able to download a 4K UHD movie in just a minute. On the kind of 100Mbps connection that early 5G broadband services will likely offer, that would take 1 hour 40 minutes.
Downloading a 25GB console game will take just 20 seconds using a 10G connection. You'd need to add more than half an hour onto that time at present, even with a fast 100Mbps connection.
When and where will 10G broadband roll out?
At the aforementioned CES 2019 showing, NCTA announced that 10G broadband would be rolling out across the US and the rest of the globe over the coming years.
While 10G lab trials are already underway, though, 10G field trials aren't set to begin until 2020. It's highly unlikely, then, that 10G broadband will be pipping 5G broadband to market.
However, while 10G is a trademark of NCTA, it doesn't have the monopoly on 10Gbps broadband development. For example, in February 2018, broadband operator Hyperoptic conducted a 10Gbps full-fibre (aka Fibre to the Home) broadband test in the former Olympic village in east London.
The company claimed at the time that this was the first time such speeds had been achieved in the UK using an existing ISP.
What will 10G's relationship to 5G be?
10G broadband will be in competition with 5G broadband, but should work hand in hand with the wider 5G network.
The NCTA believes that 10G will provide "new possibilities for smart cities, healthcare, connected gaming, video streaming, virtual and augmented reality". These are all areas that will require a fast next generation mobile network in addition to a fast and reliable fixed network.
Ultimately, while 10G's name appears to position it in direct competition with 5G, the two network standards (along with any other 10Gbps fixed networks that emerge) will form an essential partnership in hosting and enabling the applications and communications of tomorrow.